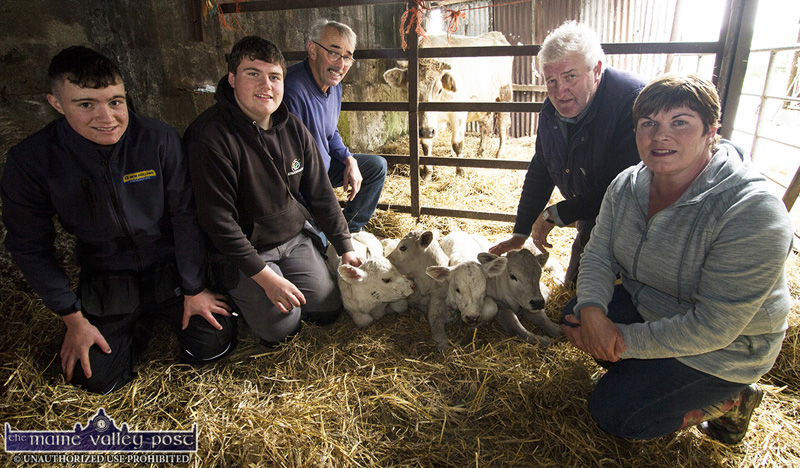 If the headline is a familiar hangover from the weekend you're on the wrong track already.
Switch off from Croke Park and on to a farm in Currow, Co. Kerry.
On the eve of All-Ireland football final day between 1pm and 3pm a Charolais heifer gave birth to five bull calves but unfortunately one of them died soon after birth.
Five of the One Gender
That fact that the five were of the one gender is likely to be well up there in the record books of such occurrences.
The Howard family of Kilsarcon – between Currow and Scartaglin – are the proud owners of the 2016 born, slightly built heifer and now of four healthy and lively bull calves.
All Over by 3pm
While they knew that their heifer was in calf and due any day, all the signs of an imminent calving became apparent on Saturday as the clock edged towards noon – and it was all over by 3pm.
"We never expected anything like this from the little heifer – look at the size of her," said Patrick Howard – pointing to the proud and protective mom.
She was keeping a very close eye on her four identical quads in the deep piled carpet of fresh straw and an infra-red lamp lighting in the corner of the temporary maternity ward.
The Guinness World Records
The Guinness World Records has an inclusion of five calves in a single birth in Mexico in 2005.
Even so, to have four healthy calves of the one gender must surely count for something in world record rankings.
The 'boys' are the result of a liaison between their mom and a bull from neighbouring parish of Currans and from the farm of JP Daly.
Bottle Feeding for Now
While the mom is not able to feed the four calves at the one time their diet is being supplemented by bottle feeding and that will continue for about three or four weeks – according to Patrick.
"We'll rear them up to about a year and a half before we'll even think about selling them and we'll be expecting good money then for our four fine bulls," said Patrick.