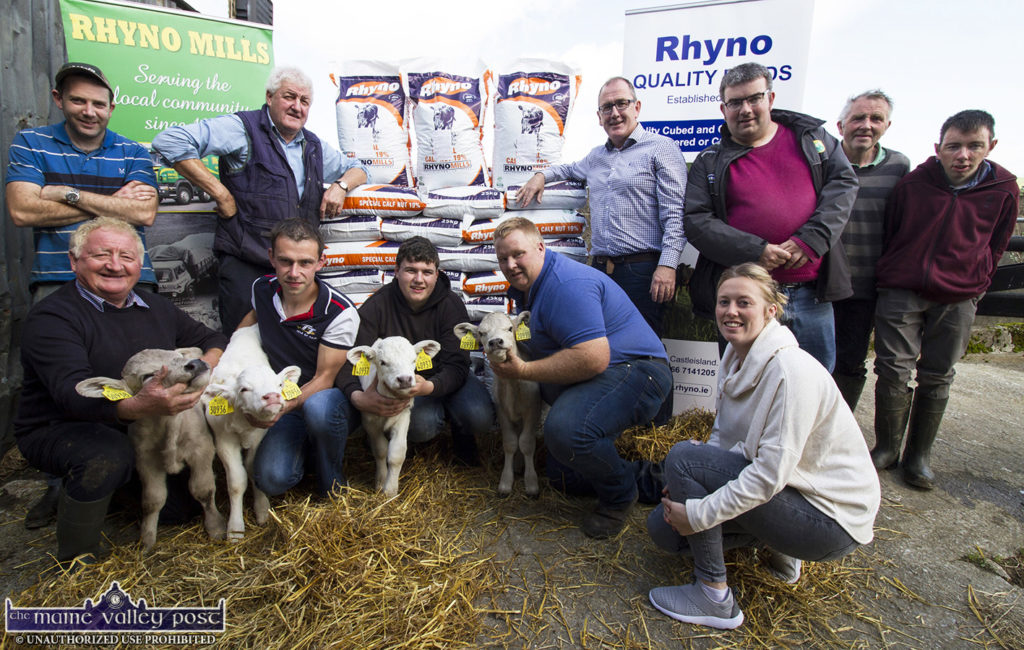 Since Currow began to produce its heroic rugby players a generation or two ago, the 'something in the water' line became a common theme among commentators.
Now, for the past week or more in Currow, visitors from all quarters have been taking to the roads around Bawnagleanna, Inchincummer and Kilsarcon in search of the Howard family farm.
Extended Howard Farm Family
There, since the very last day of August 2019, reside four record making – if not breaking – bull calves and their mom, Molly on the farm of Patrick and Marguerite Howard.
On Friday afternoon the greatly extended Howard family received a most welcome gift of a two-ton delivery from Rhyno Mills of their top-of-the-range calf nuts.
The gift came with congratulations and good wishes delivered in person by Rhyno Quality Feed representatives, Vincent Behan and Ted Moriarty.
Posed Obligingly
While the four boys posed obligingly for photographs, neighbours and friends gathered again for the latest happening on the farm.
Patrick Howard looked at the pallet of ration with the satisfaction of a man who had just packed the last pike of hay into the shed and was ready for whatever the winter would bring.
"Rhyno is what we always fed to the cattle here anyway – but that's going to be a great boost for the calves facing into the winter when they'll start eating the nuts.
Stock at you Back
"They won't be ready for them for another while and 'tis good to have a stock of stuff at your back – people have been great to us since the calves arrived last week," said Patrick.
"We're delighted with this," he said as he accepted the gift and the congratulations of the representatives on behalf of the management and staff of the 1919 established, Castleisland based milling firm.
National Spotlight
Meanwhile, the Bawnagleanna Brothers have had to share the national limelight with a squad of equally bullish young men who bravely stood up to and nearly toppled the daunting Dublin football team and their five-in-a-row ambitions.
In honour of the team and its achievements in 2019 – so far – the Bawnagleanna brothers have been given proper names of their own and in honour of the county's footballers with whom they shared fame last week.
Names in a Gallon
"On Saturday" Marguerite explained, "we put all the names of the Kerry team into a gallon and we pulled out four.
"We were delighted to see Jack Sherwood coming out as he's a neighbour in Farranfore.
"Then out came Seán O'Shea, David Clifford and Tommy Walsh.
"We'll be inviting the four footballers to bring the Sam Maguire Cup and meet the boys here and their mom when they (the footballers) get a chance," said Marguerite.
You can find out more about the interesting history of Rhyno Mills with a click on the link here: http://www.rhyno.ie/archive.html#history