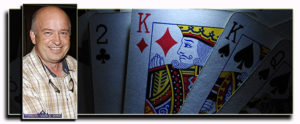 The following are the results of the card game held in The River Island Hotel on Sunday night last.
1st: Liam Moriarty and Dan Reidy. 2nd: Betty Began and Paddy Mahony. Ladies: Tess Brosnan and Marian Prendiville.
Gents: Dan Buckley and Sean Walsh. Mixed: Mary Barrett and Timmy Brosnan.
Spots: Gerry O'Connell and Tony Fleming, Jerry O'Donoghue and Seamus McKenna, Geraldine and Denis O Leary.
Cards continue next Sunday night at 9pm Sharp.