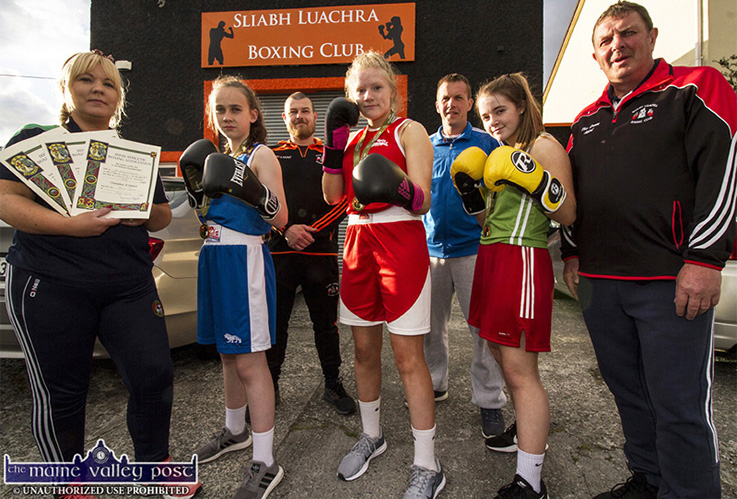 The Federation of Irish Sport, supported by EBS, announced the winners of the 2019 Volunteers in Sport Awards earlier this week.

Castleisland's Jennifer O'Sullivan-Coffey, a founder member of the Sliabh Luachra Boxing Club, was among the nationwide 32 county pool of winners to be presented with an award at Farnleigh House on Tuesday in Dublin by Minister of State at the Department of Transport, Tourism and Sport, Brendan Griffin, TD.
An Outstanding Ambassador for Boxing
"I'm delighted, it was a nice surprise – the club nominated me, it was lovely….. thirteen years going," said Jennifer on her Castleisland club after receiving the award.
Also a volunteer with the Irish Amateur Boxing Association, Jennifer was described by association President, Dom O'Rourke as 'an outstanding ambassador for boxing.'
A Million Hours Invested
It's estimated that over a million hours are invested in sport on a weekly basis by adult volunteers.
Members of the public were invited to nominate an individual for the awards.
The awards were first held in 2007 to recognise coaches, managers, officials and administrators who give their time to grow and develop amateur sports in their areas.
Celebrating All That's Good
Though dropped from the calendar of national events since they were last held in 2014, the awards have now made a return to the scene and to a broad welcome.
"The awards are a celebration of all that's good about some 450,000 volunteers delivering sport in Ireland week in week out.
"The commitment, dedication and leadership of Ireland's sporting volunteers across an estimated 14,000 clubs allow athletes and communities to participate in sport all around the country," according to the organisers in praise of the award winners.