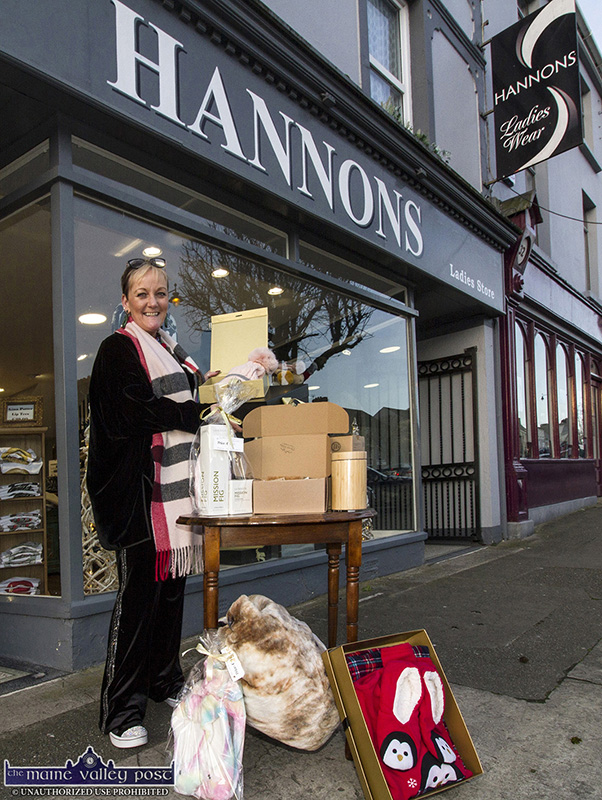 It's all about pack and post with extra customer service at Hannons of Castleisland this Christmas.
If you are looking for help with your Christmas shopping, Hannon's have set up a 'gift pack and post' system and they have sourced the most wonderful quality gifts for ladies and gents at amazing prices.
They have three beautiful eco friendly, Irish made products including: from candles, soaps, diffusers and oils.
Wonderful Gift Ideas
Pyjama or 'PJ' gift box sets, dressing gowns, slippers and animal print blankets, hats, scarves, jewellery are just a few of the wonderful gift ideas they have come up with.
Putting customer service on a priority footing is a long held tradition in one of Castleisland's best known businesses.
Now they have set up a one to one service to which you can phone, call in to Hannon's or email them.
Your Gift – Your Budget
They will discuss in detail what kind of gifts you are looking for, and help you choose the right gift to suit your budget.
They will then send you photos of items they think will suit your needs and make your Christmas shopping hassle free.
They have invested in beautiful gift boxes to make your gifts extra special.
Wrapped and Ready
They can send your gifts wrapped and ready to you or directly to your loved ones.
"We started this service last Christmas when we moved back into our beautiful refurbished store and it was a great success," said Jill Hannon.
"We have sourced the most luxurious products at affordable prices and want to make your shopping experience a happy one.
Personal Service to Customers
"We are different to an online service as we will go through every gift with our customers in a personal manner to make sure they are the best for them.
"So if you would like a hassle free shopping experience call 066 71 41238 or email:  hannonsfashionshop@gmail.com and Hannons will do the rest," said Jill.
For more information on Hannons Castleisland simply click on the link here: https://www.facebook.com/HannonsFashionShop