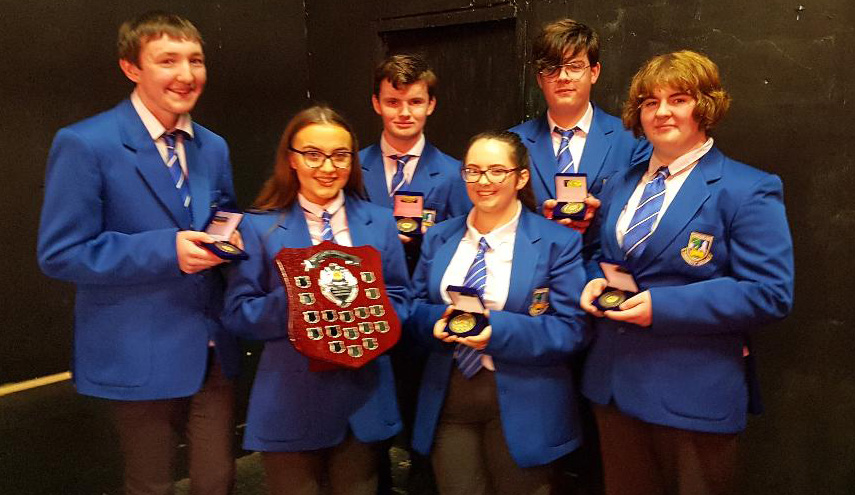 Messages of congratulations are being showered on the Castleisland Community College debating team which competed in and won the Castleisland Interagency Youth Forum final against Saint Patrick's Secondary School.
The final took place in the Ivy Leaf Theatre on Wednesday. The community college team passed the motion: 'That alcohol causes more harm than illegal drugs in Irish society.'
The judges were: Superintendent Dan Keane representing An Garda Síochána, Sinéad Kelleher representing the HSE and Jerome Stack, Ivy Leaf Art Centre director.
Perpetual Trophy
The school received a perpetual trophy, with each student receiving a medal and a €20 voucher from Garvey's SuperValu.
The community college team members were praised by the judges for their excellent communication skills and the great research undertaken.
The entire transition year class gained a deeper understanding of the effects that alcohol abuse has on many households in Ireland.
Poise and Self-Esteem
The class worked under the guidance of their teacher and mentor Annette Steinborn along with other teaching personnel who assisted in preparing the team.
"The debate provided an engaging, active, learner-centered approach to the issue of alcohol.
It increased the students' confidence, poise and self-esteem and has led to improving rigorous higher order and critical thinking skills," said a spokesperson for the team.
Forum Formed in 2010
The forum was established in 2010 by the Castleisland/Farranfore Primary Care Team as a response to concerns raised by the local community around the increasing levels of drug and alcohol use by young people in the area.
The agencies work in collaboration with the local community in developing action plans aimed at reducing alcohol and drug related related harms.
Notable among the initiatives have been research, the production and dissemination of information resources, newsletters, information talks and the PAUSE for a moment and REFLECT wallet card.