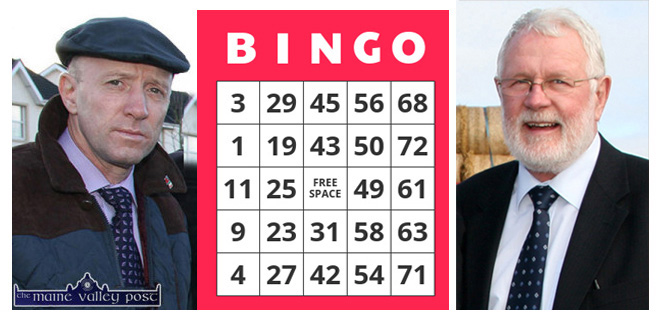 Sinn Féin Amendment Alleviates Bingo Concerns – Ferris
Kerry Sinn Féin TD Martin Ferris has said he is delighted that common sense has seen through a proposed amendment by Sinn Féin TD Martin Kenny to resolve the issues surrounding the Gaming and Lotteries Bill.
Earlier this week the Ceann Comhairle allowed Deputy Kenny to propose a verbal amendment to the bill and it was accepted by the Minister of State at the Department of Justice David Stanton TD.
It will now progress to the Seanad.
Commercial Bingo Operators
"There was a very organised lobby by the commercial bingo operators against this bill, but the main objection being put forward was that there was a cap of 50% of takings at any licensed bingo game being allocated to prizes.
"The Sinn Féin amendment changed that 50% to 75%, leaving it at the discretion of the operators as to how much they give as prizes.
Charity Take Remains
"The original figure of 25% of the takings going to the charitable cause remains the same.
"I am delighted that this Sinn Féin amendment has ensured that bingo games and operators can continue as normal, and that the situation, which had caused concern to many bingo players around the country, has been resolved," said Deputy Ferris.
Government Proposal Would Prove Detrimental to Bingo
On Wednesday, December 4th. 2019 government bought a proposal before the Dail which was going to be very detrimental to the game of Bingo – according to Deputy Michael Healy Rae.
At the very beginning of the debate Deputy Healy Rae said he was glad to call a vote on the matter to show how serious himself and others were taking this matter.
Long and Lengthy Debate
"The debate was long and lengthy and I was glad to contribute to it on numerous occasions. I highlighted how important it was to leave the game of Bingo alone and not interfere with its current structure.
Kerry Bingo Players
"The outcome was successful and I would like to thank again all of the people particularly in Co Kerry who play Bingo and contacted me at various stages to highlight their serious concerns about what was been proposed by Government," Deputy Healy Rae concluded.