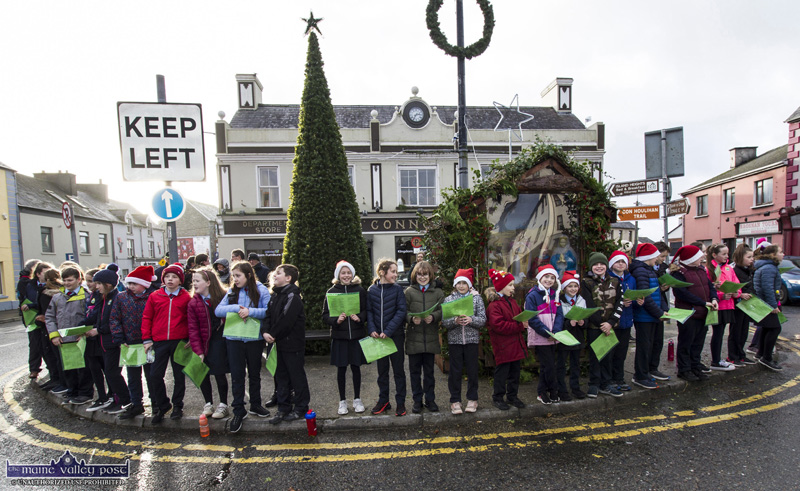 Blessed with all the benefits of a dry run throughout Friday afternoon and night, Castleisland Chamber Alliance carried out its launch of Christmas celebrations without a hitch and with more than a hint of magic.

The wheels began turning early in the afternoon with the Scoil íde, Curranes National School Choir, teachers and Principal Emer Nelligan gathering at the fountain for the blessing of the crib.
Fr. Brick's Blessing
Fr. Mossie Brick, PP Castleisland arrived soon after and did the needful and more.
He called on crib creator, Dan Lynch to come forward out of the crowd and he gave Scoil Íde pupil Harry O'Donoghue his bottle of holy water and, after thanking Mr. Lynch for his years of dedication to this particular seasonal task, he asked the eight year old to bless Dan's hands.
Silent Night / Oiche Chuin
In fine voice throughout, the school choir was then joined by Fr. Brick in a bilingual rendering of Silent Night / Oiche Chuin.
There was a few hours of a break for chamber members before their next engagement at 6pm in the accommodating yard of Walsh Brothers Electrical.
There, they had an array of tents and gazebos that looked ready for the rain that didn't come in spite of a bare sprinkle as the queue lengthened to see Santa.
Santa's Daunting Queue
He was at home in one of the cosiest tents on the yard and he was one of the busiest men in town for at least a couple of hours as he worked his way through a daunting queue of parents and children. But he managed it all – fair play to him.
Then it was time for the greatly anticipated fireworks display and it certainly didn't disappoint as admirers of all ages ooohed and aaawed at the sky of live entertainment and exploding brilliance.
Then, just like the gear change in Bohemian Rhapsody or in the Fairytale of New York, we all turned our backs on the mart wall and headed back to Main Street and down left  to the fountain.
The Most Feted Man
And there, the area's most feted man, Donal 'Duke' O'Connor was introduced by Dan Kearney and was presented with a gift from the chamber by its chairman, Michael John Kearney.
They were standing on the plinth by the fountain as that was where the magic Christmas Tree and new town lighting switch was.
Magic was Palpable
Donal, who is now facing into his 50th. Christmas Basketball Blitz was asked to do the honours with the switch for the lighting.
He did so and the reaction to the John Keane Electrical and crew created, town long magic was palpable and applauded accordingly.
Another gear shift and we all found ourselves in the River Island Hotel for the launch of the aforementioned 50th Christmas Blitz. Ach sin scéal eile ar fad.