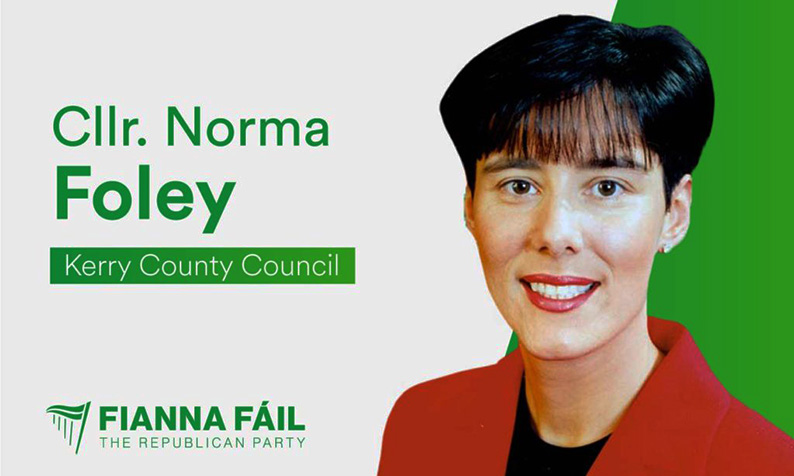 Fianna Fáil Councillor Norma Foley has been selected to contest the General Election for Kerry, joining John Brassil TD and Cllr. Norma Moriarty on the Party ticket in that constituency.
Cllr. Foley is a teacher by profession and lives and works in Tralee. Since 2004, Cllr. Foley has represented the people of the Tralee Municipal District on Kerry County Council, topping the poll in last May's Local Elections.
Mayor of Tralee
She has served on Tralee Town Council and held the position of Mayor of Tralee on three occasions, most recently in 2017/2018. Cllr. Foley served as Mayor of Kerry in this past year.
"I am honoured to represent Fianna Fáil and contest for a seat in Dáil Éireann," said Cllr. Foley following her addition to the party ticket.
"Over a long career, elected politics has led me to today. I believe I bring a wealth of experience and an understanding of the real problems people face day to day under the current government," Cllr. Foley continued.
Rural Areas Abandoned
"Rural counties like Kerry, and towns like Tralee, with their unique way of life have long been abandoned by Fine Gael. It will be my priority if elected to Dáil Eireann to fight for improvements in my native county of Kerry, including employment, services, and the development of industry.
"In Kerry, our healthcare sector needs to be improved. A better hospital service, curtail the exodus of rural GP's, and an improved capacity in our hospitals is required.
Soaring Waiting Lists
"Waiting lists have soared across the board. Daily, the numbers of people waiting on hospital trolleys is into the 500s and 600s – this with the supposed winter plan in effect.
"Fine Gael's housing policy has failed people in every age group. For many, the dream of home ownership is now an unattainable ambition.
"It is clear that the outcome of the next General Election will be critical to the futures of so many and we need a change of government. I look forward to working with my party colleagues John Brassil TD and Cllr. Norma Moriarty over the coming months," Cllr. Foley concluded.