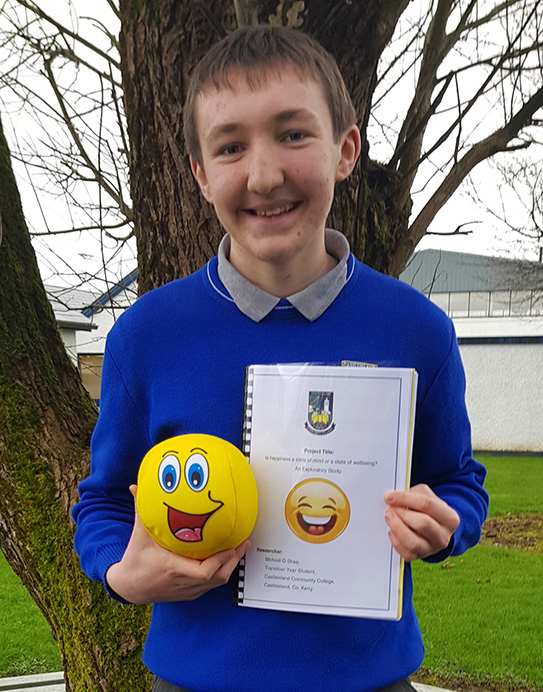 Castleisland Community College wishes Micheál O'Shea from Transition Year the best of luck as he travels to Dublin to compete in the BT Young Scientist Competition 2020 in Dublin.
The Ballymacelligott student's project is an exploratory study on the mercurial topic of happiness.
A State of Mind
Its title 'Is Happiness a State of Mind or a State of Wellbeing' is a key element to the new Junior Certificate programme.
It will find lots of comparative entries in the 2020 Young Scientist & Technology Exhibition which opened in Dublin today.
Mental Health and Climate Change
Of the almost 600 entries on various studies, the dominant are those of mental health and changes in climate.
Micheál O'Shea's entry investigates experiences of happiness in the context of adolescents living in rural Ireland. He achieved this by devising research questions for teenagers.
An analyses of the answers was done using a quantitative research approach.
Fingers Crossed 'til Friday
Conclusions and recommendations were then drawn up. Micheál's project is on display in the RDS, Dublin this week.
He will meet with judges during the week before the results are announced on Friday.
The projects will remain on display until Saturday for the general public to view.