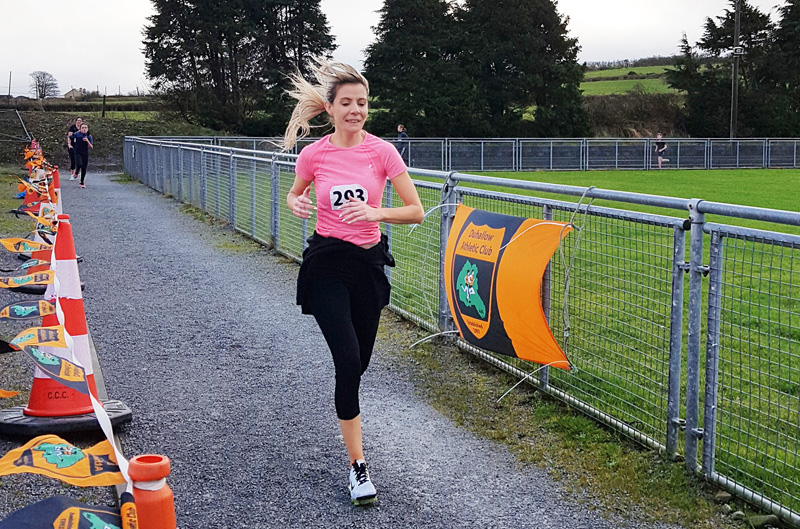 I thought when Brosna won the All Ireland Junior Final I wouldn't ever again feel that depth of love for my extraordinary parish. I was wrong.
By Mairéad Moriarty
Walking into Pairc na Feile, Brosna GAA grounds on a gloomy 5th January, I was overwhelmed by the sight of close to a thousand people all gathered for one purpose.
To remember the beautiful Kerrie Browne.
Celebration of Kerrie's Life
Kerrie, a pediatric nurse returning from a night shift at University Hospital Kerry lost her life in a road traffic accident on 1st October 2019 outside Castleisland on the Abbeyfeale road.
Facing their first Christmas without Kerrie, her partner Eamonn Kiely and her sister Andrea decided to organise a memorial run to celebrate Kerrie's life while helping to raise funds for the Pediatric Wards of both University Hospital Kerry and the Whittington Hospital in London.
They planned the run to take place on 5th January, the eve of Kerrie's 27th Birthday.
Traffic Tailbacks
So, here we all were, tailbacks of traffic heading into the village, queues of people with their children and dogs, GAA clubs from three counties all lined up to register for the run and walk.
Eamonn's Brosna team-mates were on hand acting as stewards for crowd control.
Liz and Noel Lane under the auspices of Duhallow Running Club helped structure the entire event from registration to time recording.
Soup, Medals and Water
A wonderful local team of women co-ordinated foods and refreshments. Kind sponsors donated soup, medals, water. The list goes on and on.
What struck me most was seeing people taking on a 5k walk who wouldn't normally feel they were able for such a challenge.
They may not have been dressed in top branded sports gear but they forged on to be part of an event that was more than just a charity run.
Love and Regard
It was a chance for a parish and group of individuals to stand as one to demonstrate their love and regard for one of their own – a lovely young woman called Kerrie.
Four local girls who had been on the Wren on St Stephen's Day, donated their hard-earned money to the event. Gestures like this said it all. Brosna, well done!
Hope for New Beginnings
At the beginning of a new year, an event like this is timely.
It reminds us of the passing of the years, a hope for new beginnings, of how each one of us is given a fresh start each day to make the world in which we live a brighter and better place.
Kerrie is still part of this continuum.
In a Meaningful Way
Her presence was very much felt during her memorial run and the funds raised will add, in a meaningful way, to the efforts of her pediatric colleagues.
Thank you, Kerrie for bringing us all together to be part of your extraordinary day in Brosna.  Happy Birthday!