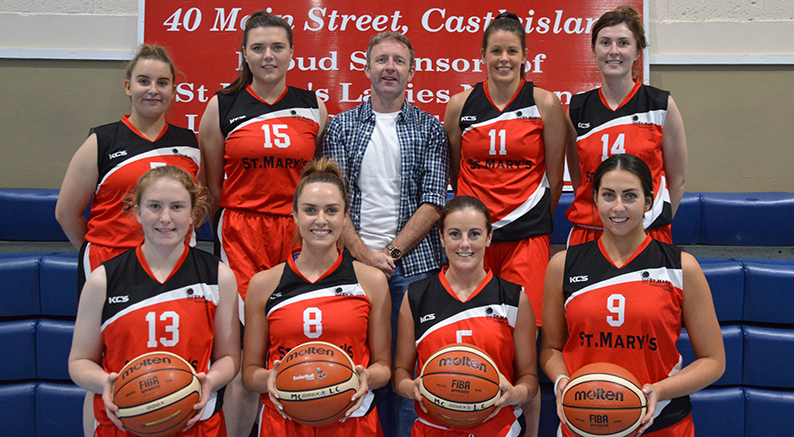 Team Tom McCarthy's / St. Mary's will meet Portlaoise Panthers in the semi final of the Women's National Basketball Cup competition on Saturday in the Parochial Hall in Cork at 2pm.
By Liz Galwey PRO
It's expected to be close as there is rarely much separating these two sides.
They met in September in the league when Team Tom McCarthy's took the away win by six points. However, Panthers took the win in Castleisland in November by five points.
Looking Forward to the Game
"We're really looking forward to the game and preparations have been going really well over Christmas," said squad coach, Liam Culloty.
"We've had two games in the weekend prior to the semi finals and that should really bring them together as a group and we're hoping to get the win on Saturday.
"Although Portlaoise took the win in their last encounter, they have worked on a few things and will be looking to improve for the semi final. It would be a great achievement for us to get to the final," said Coach Culloty.
Close Game Expected
The game is expected to be a close one.
St Mary's will have to contain Trudy Walker along with Sarah Fleming, Gillian Wheeler and Ciara Byrne.
Team Tom McCarthy's has been playing extremely well as a team all season and the squad has the talent to take the win.
The Castleisland side will need to get ahead early and will be looking to have a cushion going into the final quarter as Portlaoise is not a side to give up easily and will be persistent should it be close in the dying minutes.
Tickets can be purchased at the door at the Parochial Hall in Cork for any supporters who wish to attend.
St. Mary's Basketball Club News
Well done to Team Tom McCarthy's who had two wins on the road last weekend. They took a 12 point win over Swords Thunder on Saturday and went on to take a five point win over Tipperary Knights on Sunday.
Club Results
U-12 Girls Division three Glenbeigh 14 – St. Mary's 20.
Division two ladies: Gneeveguila 41 – St. Mary's 58.
Senior Fixtures
January 14th U-18 Division one women's cup, St. Paul's meet St. Mary's in Aura Killarney, tip-off 7.10pm
January 15th Division two men's cup St. Brendan's meet St. Mary's in Moyderwell, tip-off 8.15pm
January 17th Division one men, Tralee Imperial's meet St. Mary's in Mounthawk, tip-off 8.15pm
Juvenile Fixtures
January 11th U-12 boys Division one: St. Mary's meet Gneeveguilla in Castleisland at 4pm
January 13th U14 girls division one Glenbeigh Falcons meet St. Mary's in Glenbeigh at 7pm U-12 boys division two plate St. Joseph's meet St. Mary's in Duagh at 6.30pm