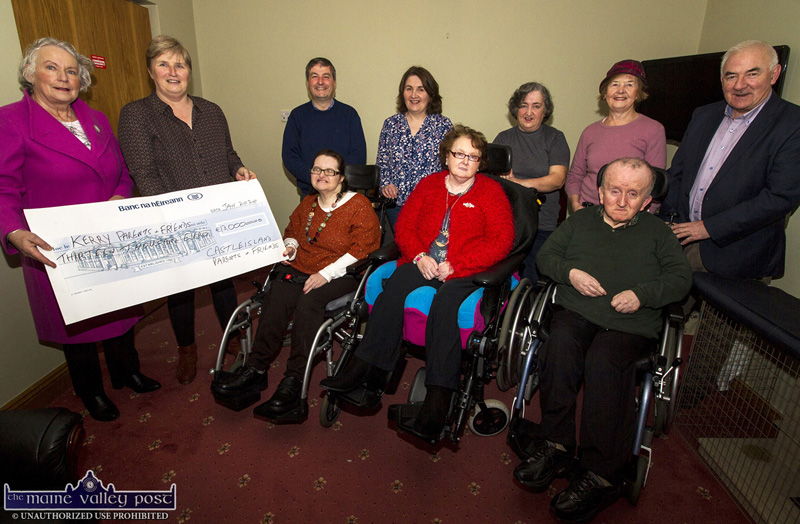 The charity we now know as the Kerry Parents and Friends Association has been close to the hearts of fundraisers in the Castleisland area for generations.
The town's annual Indoor Market was founded back in 1973 as a fundraiser for the mainly Killarney based charity at that time.
The immediate and continuing success of the market was one of the major factors in getting the facility built in Castleisland in the early 2000s.
Motivating Factors
The other major motivating factor was the sheer volume of tireless fundraising which prompted those behind the movement here to press the need for a tangible monument to the generosity of the people of the locality.
Soon after, Glebe Lodge became a reality when Donal and Margaret Geaney donated the Brosna Road site at Kilbanivane.
The name came from the site of the old lodge for Glebe House which was occupied for generations by the O'Shea family.
Gatekeepers for Glebe Rectory
As the name suggests, the lodge residents served as gatekeepers for the Glebe House Rectory in Churchtown. As the local parson's carriage wound its way down through the track in the fields the gates were opened and duly closed by the occupants of the lodge.
This was a ritual which continued up to 1949.
The present Glebe Lodge was opened in the winter of 2002 and it proved a significant milestone for the fundraisers and a new focus and inspiration for the still thriving indoor market.
Manifestation of Solid Support
There was yet another manifestation of the solid support levels enjoyed by 'The Lodge' last week with the presentation of a cheque for an amazing €13,000 earlier this week.
This was the proceeds of the 2019 indoor market and church gate collection and last year's Paudie Fitzmaurice Memorial Tractor Run and 'Street Collection.'
The Castleisland Races and the Humphrey Murphy Memorial Road Race Committee also maintains the supportive links the late Humphrey established with the facility from the time it opened to his untimely and accidental death on May 20th 2011.