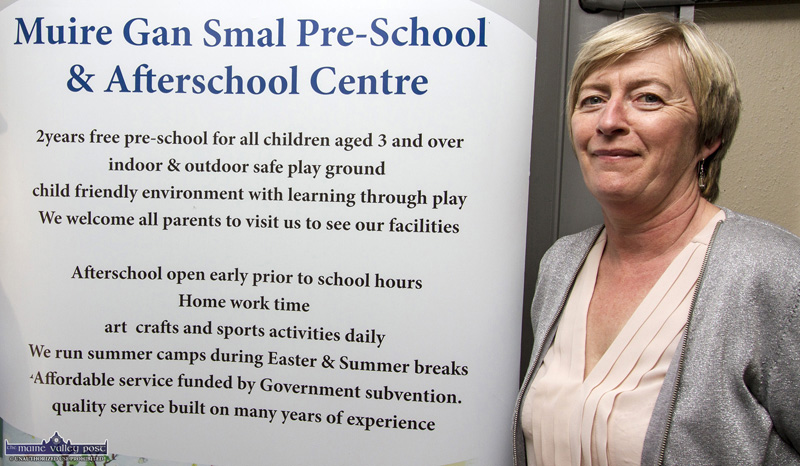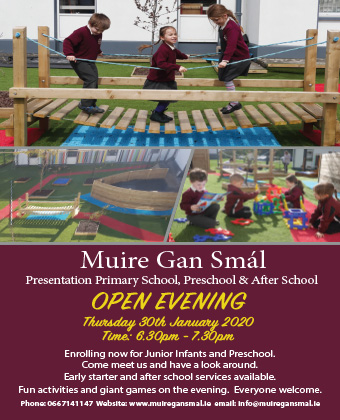 Muire Gan Smal Pre-school is holding an open evening in conjunction with Muire Gan Smal Primary School.
It will take place on this Thursday 30th January at 6.30pm.
"We are looking forward to welcoming any parent who would like to see our preschool facilities and who would like information on the ECCE free pre-school scheme," said manager Kathleen Brosnan.
Two Years Free Pre-School
"Every child is entitled to two years free pre-school under the current programme and may also qualify for extra hours at a reduced rate under the new National Childcare Scheme just recently launched by the government.
"Muire Gan Smal pre-school has now been running for 30 years so has many years of experience in early years education.
"The pre-school area is a bright modern space where children have lots of opportunities to play and learn.
Learning Through Play
"The mornings consist of lots of learning through play with construction areas, sand play and story corner and much more.
"We also have a fabulous outdoor classroom and garden where activities take place no matter what the weather is like.
"We look forward to seeing you on Thursday, January 30th. at 6.30pm.," said Ms. Brosnan.
If you have any queries please call Kathleen on 087 98 01 580 or Email: muirechildcare@gmail.com