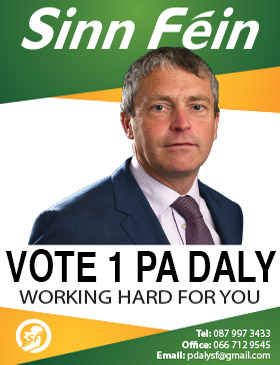 Sinn Féin candidate for County Kerry, Cllr Pa Daly, has said that he believes carers are the backbone of our society.
Speaking after the launch of the Sinn Féin General Election Manifesto, Cllr Daly said he is very proud to see so much of his party's general election manifesto is focused on carers.
An Irreplaceable Service
"I believe that carers are the backbone of our society. They provide an irreplaceable service and we are committed to supporting them," said Cllr. Daly.
"Every day our carers look after and care for some of our most vulnerable citizens. In doing so, they ensure that the person being cared for can remain in their own home – the place where they want to be.
"This, According to Family Carers Ireland, saves the state around €10 billion annually.
Sinn Féin Committments
"We in Sinn Féin are committed to: Increasing the Carers Allowance and Benefit rate from €219 to €255; Ending the 15 hour rule restricting work or study outside the home and trust Carers to manage their own time; Increasing the annual Carer's Support Grant to €2,000 at a cost of €40 million; Developing and publishing a new and updated National Carers' Strategy with a dedicated budget and timeframe to ensure the implementation of all actions
A Decent Income While Caring
"Every day, the Government tells us about how great our economy is doing and yet we are still failing around 355,000 Carers across Ireland.
The Government's National Carers' Strategy was published in 2012 and has yet to be implemented. We in Sinn Féin are committed to ensuring our carers receive adequate supports, including a decent income while caring.