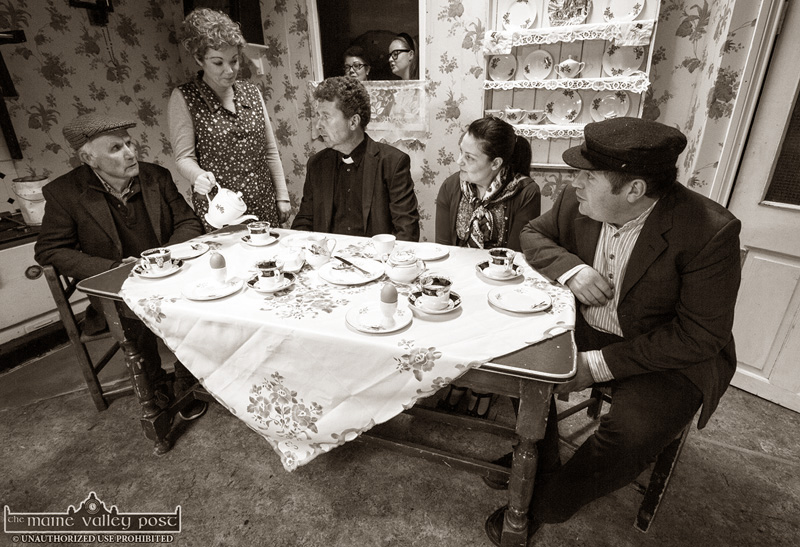 The Scartaglen based Sliabh Luachra Drama Group members declared themselves delighted to present the Tommy Marren play It's The Real McCoy from this Friday night at the Sliabh Luachra Heritage Centre, Scartaglen.
This is a hilarious, three act comedy set in rural Ireland in 1964.
It's the story of two dramatic days in the life of Madge Molloy who has lived over four decades of her life wondering why her husband of only four months vanished without a trace.
Arrival of New Curate
The arrival to the parish of a new curate Fr. Micheal McCoy is about to throw a light on the reasons why her husband Tom Molloy left and what unfolds is a series of events that will have you in tears of laughter.
"Its endless hilarious one liners and colourful characters takes you on a roller coaster of comedy that you wont want to exit.
Wide Variety of Plays
"This is our 19th. production and we feel privileged to have been able to take on a wide variety of plays down through the years including: One Flew over the Cuckoo's Nest; Dancing at Luaghnasa; Sive and Translations just to mention a few," said group actress and spokesperson, Moira Hughes.
"We're delighted to be taking on such a fantastic play this year that will be thoroughly enjoyed by a wide audience of both young and old.
Time of Year for Laughing
"People love to have a good laugh this time of the year and this play with his amazing wit and unique and gripping story line makes it just the play that people will thoroughly enjoy from beginning to end," said Moira.
The Cast According to Madge Molloy

The cast is as follows: Madge Molloy, Moira Hughes; Maura Molloy, Mary Fleming; Martin Daly, Danny O'Leary; Nora O'Hora, Lorraine Salmon; Cora O'Hora, Ciara Kerin; Fr. Michael McCoy, John Walsh; Tom Molloy, Tim Dineen. The producer of the play is Geraldine Pigott and Michelle Daly, Backstage.
Its The Real McCoy' will be staged on Friday, January31st. Saturday and Sunday, February 1st. and 2nd. and on Friday, Saturday and Sunday, February 7th. 8th and 9th. at 8pm nightly in the Sliabh Luachra Heritage Centre, Scartaglen.
Bookings and Admissions
Bookings can be made on 087 78 00 208. Admission are: adults €10 with concessions at €8.
It's a production not to be missed and early booking is seriously advisable as this group has had to close doors early and stage extra shows because of the demand for seats.