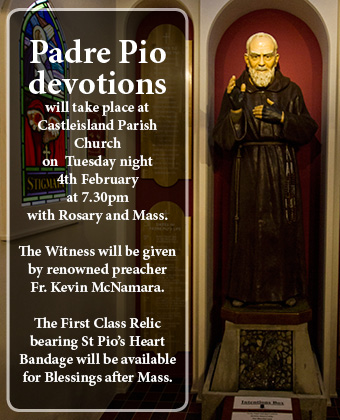 A quick reminder that the second of the monthly Padre Pio devotions will take place at the Church of Saints Stephen and John, Castleisland tonight, Tuesday, February 4th. at 7:30pm.
The devotion will include rosary and mass and the witness will be given by renowned preacher, Fr. Kevin McNamara.
A first class relic bearing St Pio's heart bandage will be available for blessings after mass.
Church Packed Last Month
Crowds are expected again on this occasion after the church was packed to capacity for the first in the series of six, monthly devotions on January 7th.
The devotions will continue until the first Tuesday in June and will then break for the summer before resuming on Tuesday, September 1st.
On Church Radio
After tonight's devotions, those remaining in this series are as follows: March 3rd.; April 7th.;
May 5th. and June 2nd. all at 7:30pm.
An estimated 1,000 plus people from all parts of Kerry and beyond packed the church on that occasion and all were individually blessed by Fr. Mossie Brick with the finger-less glove of Padre Pio after the ceremonies.
Anyone tuned up to the 'Church Radio' will be able to receive the broadcast of the devotions live from 7:30pm if they can't be there in person.