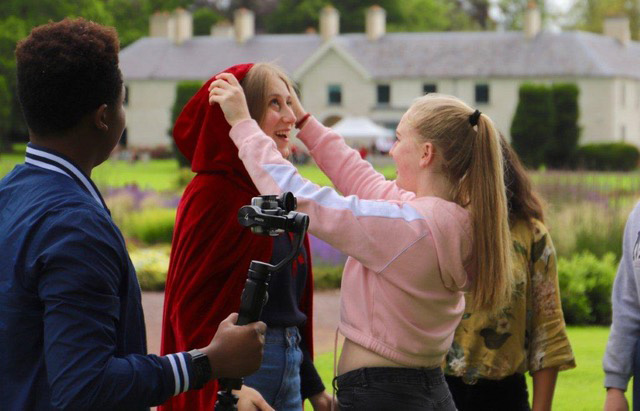 Cruinniú na nÓg is an all-Ireland event offering free cultural and creative activities. It is a celebration of making, doing, trying and creating fun experiences for children and young people and all events are free.
Visual Art Workshops
In 2019 Cruinniú na nÓg Kerry hosted 35 events across the county with over 2,500 under 18s participating and taking part in events such as visual art workshops, puppet shows, storytelling, drawing, sculpture, drumming, craft, collage, poetry, magic, music performance, acting and film, printing, comedy, clowning, circus, paper weaving, creative writing, balloon making, creative writing, environment and climate events, pottery and nature trails.
Open to Schools and Arts Organisers
This year's Cruinniú na nÓg Kerry is happening on Saturday, June 13th. 2020 across the county. Kerry County Council's Arts Office and Creative Ireland Office are inviting arts and cultural organisations, artists and creative practitioners, schools, youth arts organisers, communities and community venues interested in organising an event for under 18s to get involved.
Keep Eyes and Ears Open
They are looking for ideas from young artists, designers and anyone working with young people for events that will take place on Saturday 13th June 2020 between 10am and 5pm.
Keep your eyes and ears open for the call out on Kerry County Council Arts Office social media address below and in the local press.
Cruinniú na nÓg Kerry is facilitated by Kerry County Council Arts Office and supported by Creative Ireland.
Creative Ireland
Creative Ireland is an all of Government five-year initiative, from 2018 to 2022, which places creativity at the centre of public policy.
It is built around five pillars: Enabling the Creative Potential of Every Child; Enabling Creativity in Every Community; Investing in our Creative and Cultural Infrastructure; Ireland as a Centre of Excellence in Media Production; Unifying our Global Reputation. Each of the 31 Local Authority Culture and Creativity Plans are available to download at creative.ireland.ie  For more information click here: www.kerrycoco.ie/arts