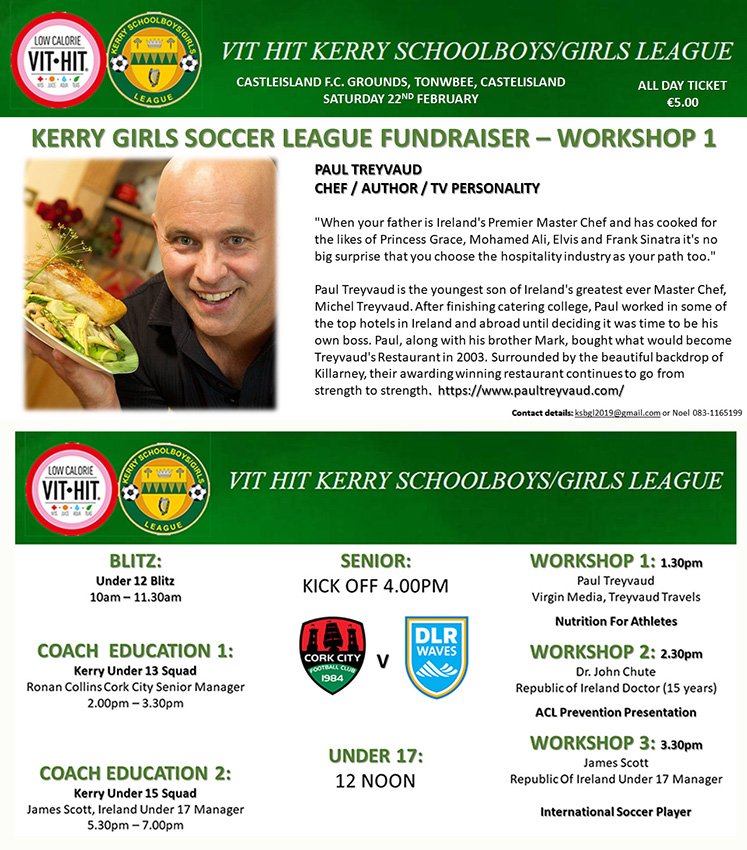 A Kerry Girls Soccer League fundraiser will take place next Saturday, February 22nd at Castleisland FC Grounds, Tonbwee. Events will start from 10am and finish around 9pm.
Flying the banner of promoting and supporting female soccer in Kerry, the programme will include
some serious, on-field action involving national league senior and under-age games.
For example: at 4pm Cork City will take on DLR Waves from Dublin and at 7:30pm a national league U-17 game between Cork City and Wexford Youths.
Coach Education and Workshops
In the course of the day, coach education and workshops will also be a major part of the event. At 2.pm Ronan Collins, Cork City senior ladies manager will coach Kerry U-13 girls team.
Then at 5.40pm James Scott, Ireland U-17 manager will coach Kerry U-15 girls team that includes Castleisland Community College student, Grace O'Callaghan from Cordal.
U-12 Blitz
Early in the day an U-12 Blitz will get underway at 10am with the promised involvement of the following clubs: Ballyheighue Athletic; MEK; Inter Kenmare; Killlarney Celtic; LB Rovers and Camp Juniors.
A series of workshops will be conducted throughout the afternoon beginning at 1:30pm with TV Chef Paul Treyvaud of Virgin Media, Treyvaud Travels and he will give advice on the perennial topic of 'nutrition for athletes.'
ACL Injury Prevention
Workshop No. 2 will commence at 2:30pm by Dr. John Chute, Republic of Ireland doctor with a presentation on Anterior Cruciate Ligament (ACL) prevention. This is one of the most prevalent knee injuries associated with athletes involved with sports such as football, soccer and basketball.
The third workshop on on the International Soccer Player will begin at 3:30pm and will be delivered by James Scott, Republic of Ireland U-17 manager.
Thankful for Support
Director of Girls Soccer and Kerry Girls Soccer League, Noel White, who organised programme of events, would like to thank Castleisland AFC; Castleisland Community College; Cork City FC; DL Waves FC; Wexford Youths FC; Paul Treyvaud; Dr. John Chute; James Scott and all the teams, coaches. sponsors, players, parents and the committee for all their efforts to provide a day in Castleisland to support and promote the Kerry Girls Soccer League.
Several Ways of Fundraising
"We thought of several ways of fundraising for the girls game in the county," said Noel.
"Then we thought if we could combine some entertainment with a couple of top class games on the pitch with the educational aspect of the indoor workshops, we could broaden the appeal of the event. And we have teams travelling down from various parts of the country and they will be booking into the hotel and B&B providers for their stay," said Noel.
Anyone looking for further information will find it all on the following Facebook pages:
@kerryschoolboysgirlsleague / @greenandgoldgirls / @ksbgl / Instagram kerrygirlssoccer19