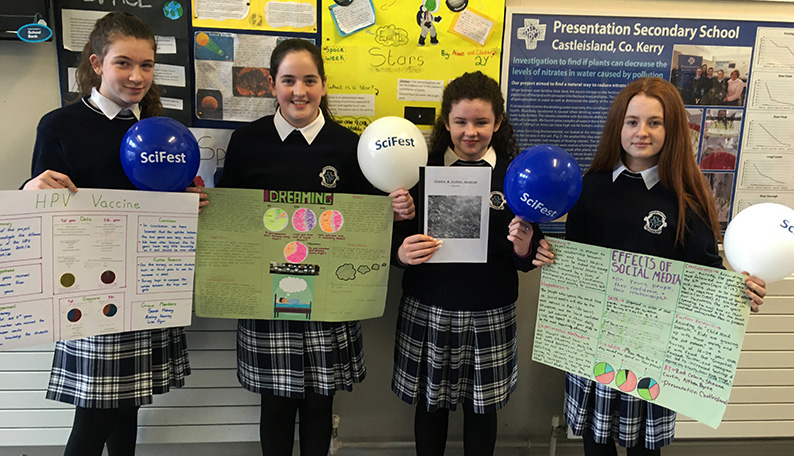 At Presentation Secondary School, Castleisland tomorrow's innovators will showcase their impressive scientific projects today at a SciFest in the school. 
Presentation Castleisland students from first, second and fifth year classes will take part in the 'Fest'  from 9:30am this morning in St. John's, Presentation School Hall.
40 Innovative Science Projects
"One hundred and forty students will exhibit 40 innovative science projects covering a wide variety of topics from all STEM strands including investigating the topical Corona virus, blood donations, plant responses, effect of social media on young people, electric car and global warming, human behavior, effects of noise and music on concentration levels and electric circuits with vegetables," said teacher, Annette Leen.
Inquiry-Based Learning
"SciFest is a national STEM fairs programme for second-level students, encouraging a love of STEM and inquiry-based learning.
"Fairs take place locally in schools, regionally in the Institutes of Technology, culminating in a national final.
The finalists from Presentation Castleisland will go on to compete at the regional fair in IT Tralee.

Science Foundation Ireland
"The winner will then go on to compete at the SciFest National Final in association with Science Foundation Ireland in November. Participants in the national final will compete for the SciFest 2020 Science Foundation Ireland Intel ISEF Award.
"SciFest is just one of many projects that Presentation Secondary students are involved in.
"The school is fortunate to be the only Post Primary school in Kerry afforded STEM status by the Department of Education and Skills," said Ms. Leen.