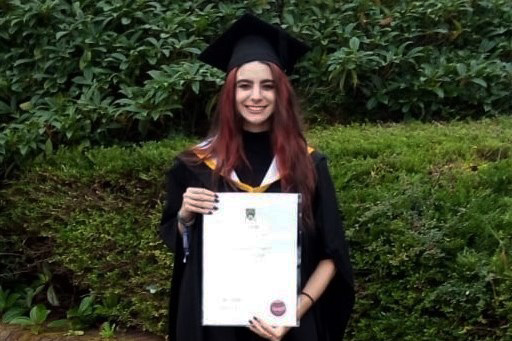 I just got in the following letter from a Castleisland based father of a young woman whose promising life was turned upside down when she was severely injured in a hit and run incident abroad.
A friend described Diana Hara, who worked here in shops in Castleisland and spoke fluently in five languages, as a young woman with the world at her feet and going on to do what she worked so hard for in life.
Any dad of any child anywhere in the world would ask for his daughter, his little girl, what Titus is now asking members of the public for. 
It's for his only child in the hope that she may have a future of self dependence – at least.
"Our Beautiful Bright Daughter Diana"
"Our beautiful bright daughter Diana studied psychology in the University of Limerick for four years.
She was currently completing her Masters in Psychology studies in Romania, when she was a victim of a 'hit and run' while crossing the road on her way home from college.
Lives Shattered
Our lives have been shattered. Our only child Diana has suffered complete memory loss and internal injuries.
As a result she will need at least 12months Rehab in the hope of recovering part of her memory, and needs continuous physio and full-time care.
Living in Ireland – Renting in Romania
Because my wife and I were living in Ireland, we now need to rent accommodation in Romania during Diana's recovery.
My wife Annamaria has moved over to care full-time for Diana, and I am working in Castleisland Co. Kerry as a full-time mechanic.
I'm doing my upmost to maintain day to day expenses, accommodation, physio bills and much more.
Asking for Help
Unfortunately the costs are too high, and we need to ask for HELP for our daughter's health and well-being.
We are aware people have a lot of expenses themselves.
But we would appreciate any donations given, to help Diana on the road to recovery and improve her quality of life."
Thanking you, The Hara family.
Friends of the Hara family have set up a GoFundMe page and people can make donations by Clicking on the Link here: https://www.gofundme.com/f/kerry-family-daughters-tragic-brain-injury?utm_source=customer&utm_medium=copy_link-tip&utm_campaign=p_cp+share-sheet