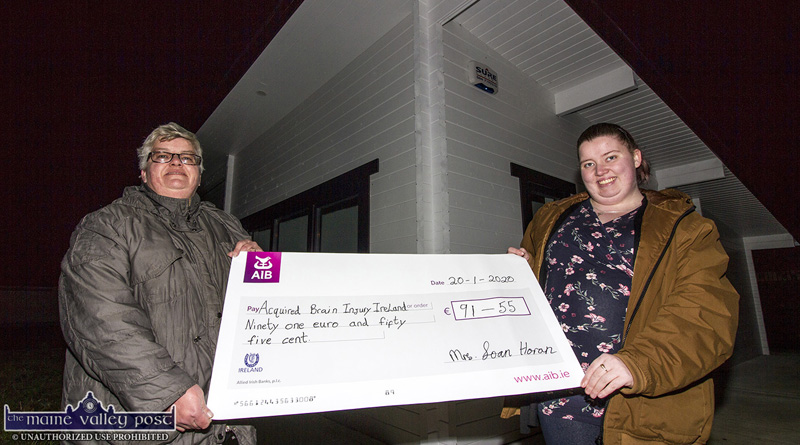 Acquired Brain Injury Ireland's new Castleisland facility was the focus of attention for a charity Christmas lighting fundraiser by neighbours in the Cahereens West community.
Joan and Siobhán Horan and family did a stand-out illumination job on their house front at No.31 and turned their postbox into a collection box and asked for donations.
That resulted in a post Christmas cheque of €91.55 for the facility which now stands proudly in its finished state on the bank on the River Maine between the Cahereens West estate and Killarney Road.
Co-operation and Kindness
David McCarthy is the area administrator of Acquired Brain Injury Ireland and he is grateful to the Horans for their efforts and to the neighbourhood in general for their co-operation and kindness during the facility's building phase last year.
"The residents of Cahereens West have been so welcoming and supportive of our services since July 2010, none more so than over the last few months," said Mr. McCarthy.
Positive Feedback
"During the construction phase of this project there was some disruption caused within their estate at the time and we are extremely grateful for their patience and understanding.
"Overall the feedback has all been extremely positive in relation to the development.
The support of all is hugely appreciated and in fairness to Joan and Siobhán Horan and family the goodwill shown was fantastic in relation to their fundraising at Christmas.
Raising Awareness of ABI
"They have also raised awareness of ABI and of our services locally which simply cannot be measured, and a huge thank you to Joan and her family for that and their continued support.
"In addition to our Community Neuro Rehabilitation Service, staff facilitate group work at our current location in Cahereens West, Castleisland.
"This was an identified need by the people we support and was facilitated using existing resources without any additional funding support.
Collaboration on Joint Projects
"The current resource centre has proved to be a resounding success and a great support for the people using our services here in Castleisland.
"We have collaborated with a number of community groups on joint projects, have had numerous social outings, taken part in local fundraisers, established the first art exhibition for people with ABI in Munster.
"We have facilitated a number of community courses for personal development, music appreciation with the support of Kerry Education & Training Board and we have hosted basic cooking skills, home management, brain injury awareness, self-esteem, health and well-being, stress management courses through our own staff resources at ABI-Ireland.
Building Option Explored
"However due to very limited space we explored the option of building a new resource centre to allow development of this service.
"The new building was constructed in 2019 and signed off just before Christmas and we are now currently working on completing the interior and it will be a real hive of activity in the months and years ahead," Mr. McCarthy concluded.