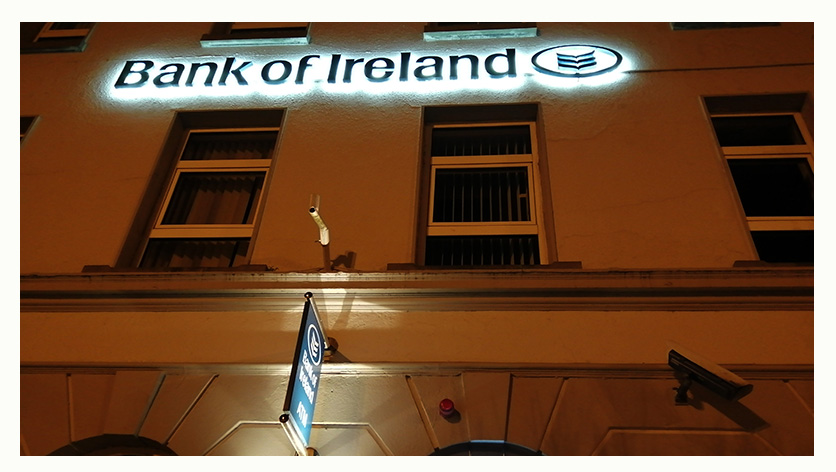 Wouldn't you have to wonder at the motivation and the lack of consideration and sensitivity of Ireland's two biggest banks this week.
Bank of Ireland announced yesterday that it is to close branches throughout the country and the office in Castleisland is one of those.
And there's a note pinned on the front door which says to its customers this morning something that amounts to Try Listowel or Tralee.
The branches in Listowel and Tralee will remain open for business as usual.
This means that people from Castleisland and its neighbouring villages will have to travel to Tralee – it being the nearest – to conduct any transactions they may deem necessary for their day to day needs.
Flying in the Face of Advice
While this surely flies in the face of all professional medical advice about social isolation, people will now have to run the gauntlet of gathering in and around the remaining open offices in the bigger towns.
The official line is that the Castleisland branch is among the Bank of Ireland facilities to close throughout the country because of the Covid-19 Virus outbreak and because of the lack of footfall in most of the smaller town offices.
Doesn't Make Sense
That doesn't seem to make sense in the current climate of fear of human contact which is gripping the country at present.
Last week AIB announced new fees and charges which will be applied to accounts at the end of every quarter.
These fees include one of 35 cents for taking cash from an ATM and 'over the counter' transactions will cost 39 cents.
Hundreds of Thousands of Jobs Lost
The fees and charges will start from May 30th and the first time you will see this being charged to your account will be at the end of September.
And this announcement was made in a week in which hundreds of thousands of people had their jobs and ways of life torn out from under their feet without a clear idea of when this gloom will even begin to lift.
Sensitive ? Hardly. Heartless? Surely.