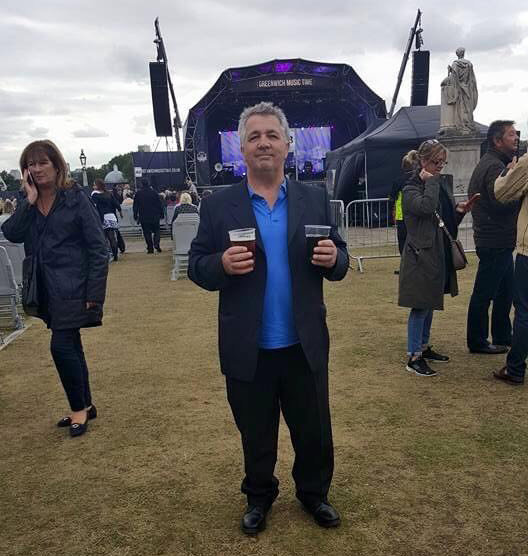 News has reached home that Clounclough, Currow native, Michael 'Mikey' Coffey has died suddenly in England at the age of 57.
A family member said on Saturday that he had been talking, only on Friday, about coming home as soon as he possibly could and was looking forward to making the trip.
A Dinger of a Pool Player
People of his generation will remember Mikey from his days working at the Tralee Road based Browne's Mineral Waters plant in the late 1970s and  early 1980s and as a dinger of a pool player at Joe McCarthy's Hideout Bar here in Castleisland.
He will be remembered as being ever cheerful with a ready, hearty laugh and a song never far from the surface in company.
The news of his death brought Brendan Behan's poem, The Laughing Boy to mind as that's the image of Mikey Coffey which flashed across my inner screen when I heard the news at the weekend.
The poem was written about the assassination of Michael Collins at 'The Mouth of Flowers' or Béal na mBláth.
The Laughing Boy
T'was on an August morning, all in the dawning hours,
I went to take the warming air, all in the Mouth of Flowers,
And there I saw a maiden, and mournful was her cry,
Ah what will mend my broken heart, I've lost my Laughing Boy.
At the Drop of a Hat
The habit of singing at the drop of a hat was a trait he shared with his late and older brother, John Coffey who passed away in July 2010.
This was a talent they inherited from their father, the late Mikey Coffey who played at every big football match in Tralee and rarely missed a fair of pig, cattle or horse in Castleisland for years up to his untimely death on his way home from a game in Tralee in the early 1970s.
The Green, Green Grass of Home
Completely in tune with his love of Currow and Castleisland and his longing to get back for a visit, the family member recalled that 'The Green, Green Grass of Home' by Tom Jones was Mikey's favourite song with Delilah, by the same singer, a close second.
Successful Businessman
The late Michael Coffey was a successful businessman in his adopted home in Woolwich, London where he lived with his wife and family and owned a popular antiques shop.
"His funeral is likely to be postponed for a long time in England so we went to his late brother, John's and his nephew James' grave in St. John's Cemetery and we left off a load of blue and white balloons in the town that he loved so much," said his family spokesperson.
May God be good to him.