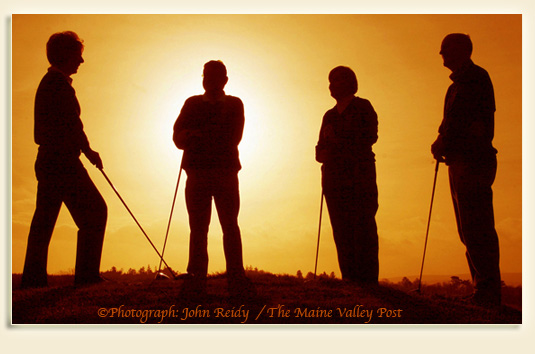 Castleisland's ailing fortunes of recent years have been dealt another hammer blow this week with the announcement that the local golf club and course at Tulligubeen is to close finally on April 6th.
On the cusp of its 18th birthday, Castleisland Members Golf Club has, like many of its equals around the country, struggled to make ends meet for some time.
Following Killorglin's Sad Fortunes
Now it follows the sad fortunes of its neighbouring and 1992 founded club in Killorglin as its gates also closed last week.
The steering committee of the Castleisland club, which had brought it out of the rough a few times in recent years, has now decided to 'putt' it out of its misery after a series of recent emergency meetings failed to find a solution to a cash shortage.
April 1st Irony
Ironically, it was on April 1st 1999 that the first positive drive to create a course in Castleisland was held with a meeting at the River Island Hotel.
This meeting was facilitated by local development association members: Sheila Hannon, Tomo Burke and Andrew Kelliher
It was convened specifically to gauge the level of interest or otherwise in the proposal to locate a golf course in the vicinity of the town – and over 100 people from a wide geographical and interest base showed up.
Major Achievement in 1999
The opening scenes of the evening were mainly concerned with gauging the depth of commitment to the proposals and the financial implications involved in the construction of a nine or 18 hole course.
The full championship, 18 hole course was decided upon and work went full tilt ahead from there.
Sheila Hannon inadvertently introduced a little levity to the situation when she welcomed the decision to go with 'the 19 hole course' – much to the appreciation of the knowing audience.
An appeal was then made to get on with the business of electing a steering committee.
After some throat clearing and the usual local issue nervousness, Thomas Brennan was the first to volunteer his services.
Positive Steps in 2002
The official opening of the club in June 2002 was deemed one of the most positive steps the town and district had taken in the history of its development.
This week's closure announcement will likely have the exact opposite impact on a town which never really recovered its commercial comfort blanket since the 2008 recession – and, some would say, since the opening of the bypass in October 2010.
There are far more important issues in the world and in the locality today that the comings or goings of a golf course.
However, the failure of an enterprise such as this, which somehow found a course through a savage recession, knocks a hole in the confidence of the area as a whole.
Green shoots? Not here!