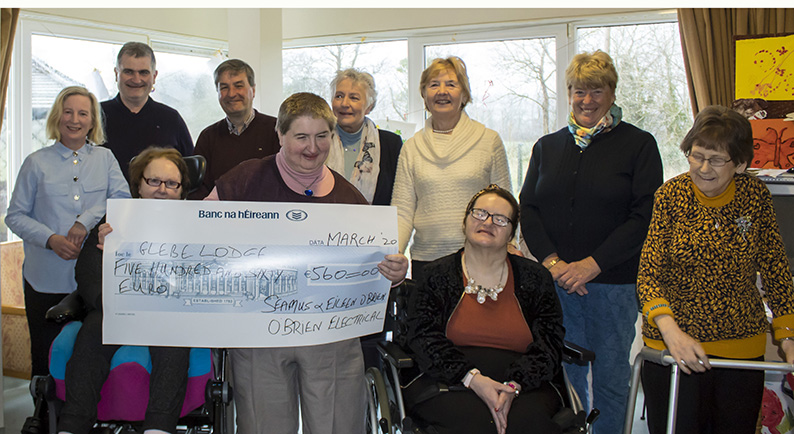 Seamus and Eileen O'Brien of O'Brien's Lighting were recently invited to Searchlight Electrical Ltd 75th anniversary celebrations dinner.
As part of the celebration dinner SEL Ltd held a raffle in which guests whose names were pulled out in a draw could nominate charities of their choice to receive money.
Glebe Lodge Nominated
To their delight Seamus and Eileen's name came out in the draw and Kerry Parents and Friends. Glebe Lodge was one of their nominated charities.
The £500 sterling cheque was presented by Seamus and Eileen early in March to the residents and staff of Glebe Lodge.
Also present were members of the local Kerry Parents and Friends branch including: Chairperson, Betty Walsh and committee members: Sheila Crowley, Seamus O'Neill and Bertha O'Sullivan.
Searchlight Electric 
Searchlight Electric is a 1945 founded, Manchester based supplier of decorative lighting to the leading specialist lighting retailers in these islands and across the world. O'Brien's Lighting on Castleisland's Main Street is included in this category.
And that's how the Glebe Lodge cheque made its way from the company with the O'Briens as conduits and donors.
For more on Searchlight Electric just click on the link here: https://www.searchlightelectric.com