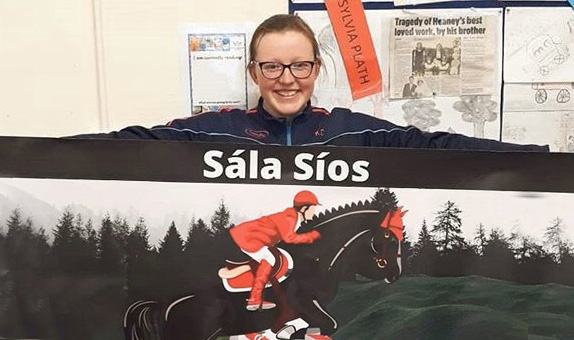 Presentation Castleisland has claimed the top prize at the Kerry Enterprise County Final in the Junior Category – for the third year in a row.
For the second year in a row, they have claimed the top prize in both the Junior and Intermediate Category and also claimed the Entrepreneurial Educator of the Year for consecutive years.
Now in National Finals
The school won the overall award for the second time in three years.
The Pres girls are now into the national final for the fourth time in the past five years.
Reaching this stage of the competition places them within the top 1% of student entrepreneurs in the country.
On Tuesday, March 31st. the Kerry Local Enterprise Office announced this year's awards and Pres Castleisland claimed six of the prizes on offer.
Five Groups Entered
Five groups from the school across all three categories entered the county final. The following was awarded to Presentation Castleisland:
1st. place in the Junior Category: 'Cast Aways – waterproof cast covers for arms, feet and legs made from recycled tents and car covers' by Áine Broderick, Charlie O'Keeffe, Emily Walsh, Ella Fitzgerald and Colene O'Callaghan.
1st. place in the Intermediate Category: 'Sála Síos – 3D printed horse stirrup attachment, that aids with balance as you ride your horse' by Katelyn Curtin.
Gaelic Touch
Runner-up in the Intermediate Category: 'Gaelic Touch – 4 quadrant, colour-coded Gaelic Football boot skin training aid' by Ciara Cronin, Muireann Walsh, Megan Dennehy, Lauren E. O'Connor, Áine Murphy and Clodagh Coffey.
Best Business Plan: 'Glúin agus Glan – a padded kneeler that protects your back and makes the chore of washing a breeze' by Maria Daly, Caoimhe Horgan and Lauren Butler.
Overall School Prize: Presentation Castleisland.
Entrepreneurial Educator of the Year
All this has been achieved under the guidance of Entrepreneurial Educator of the Year 2020 winner , Pierce Dargan, business teacher at The Pres.
In May, the National Final results will be announced but unfortunately, the national final showcase in Croke Park has been cancelled.
Aiming for Third All-Ireland
"Pres Castleisland is aiming for its third All-Ireland title in-a-row after previously winning the junior category in 2018 and the intermediate category in 2019 at the national finals in Croke Park.
"Best of luck to 'Cast Aways' in the Junior Category and 'Sála Síos' in the Intermediate Category at the national finals in May, as the school has two of the three entries from the entire county, for the second consecutive year," said Mr. Dargan.