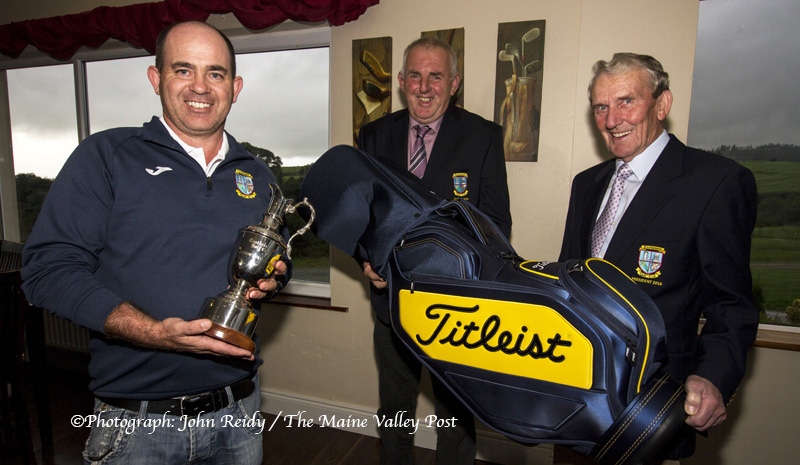 As reverberations keep rattling away in golf circles in Castleisland and Killorglin over the recent closure of both clubs, a letter was circulated this week to former members of the Castleisland club.
The letter was sent out by former Castleisland lady captain, Maryann Downes inviting / urging former members to take up an option of joining with the similarly positioned Killorglin members with the intention of rescuing at least one of the courses.
For Puck's Sake
The initiative came from the Laune-side club and, according to Ms. Downes, the uptake here is looking good for the future of the Killorglin course.
Asked why the Castleisland club couldn't have been saved by a similar initiative, Ms.Downes said that there were too many insurmountable problems here and that legalities and, finally, the Covid-19 lock-down put the 'final nail in the coffin of the Castleisland club.'
Timing Was Against Us
"Timing was against us and we had our 'bucket fundraiser' ready to go and we were prepared to fight and work hard to secure the future of the Castleisland club but then we were hit with the Covid-19 and the lock-down and that was that," she said.
The Letter:
"It is with great regret and sadness that the members of both the Castleisland and Killorglin golf clubs learned of the closing of both clubs recently.
"Several former members of both, now closed clubs, believe that there is a solution to their problem.
"Since both clubs no longer exist it is the considered opinion of several former members that a new club needs to be formed involving members of both clubs.
"They believe that it is a good viable option open to those who wish to continue to play and enjoy golf.
Long Term Future
"As the owner of the the course at Killorglin is willing to make the course available for the long-term future, the new club would be based in Killorglin.
"Suggestions on a name for the new club would be welcomed and subsequently voted on.
"The viability or otherwise of this venture and the level of members subs is dependent on the level of interest shown by both sets of members.
Declarations of Interest To….
"To this end we would appreciate if you would contact: Owen Nolan on 087 35 08 268 before the coming Sunday, April 19th.
"The organisers of the proposed amalgamation will need an indication of whether or not players would be interested in becoming members of a new, Killorglin based club."
If that passes all stages, then the amalgamated club will be inviting the creative among its membership to christen it for convenience and for posterity itself.