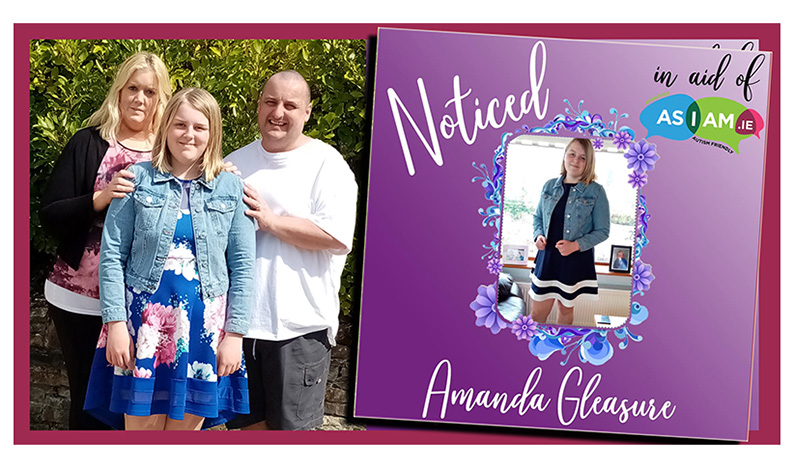 Dreams of singing, making and releasing a recording for her favourite charity are all coming true for a Glountane, Cordal girl, Amanda Gleasure.
The 11 year old has excitedly announced that this Friday, April 17th marks the release of the song Noticed on a DVD which features her as the performer / singer. 
A Song For Autism Awareness
She wanted to write a song to help raise autism awareness as her friend in school is autistic.
With the help of prolific Killarney singer /songwriter, Tom Lucey and musician, Brendan O'Connor's Little Dylan Studios in Killarney, Amanda feels that they have created something magical.
Training with Soprano Lisa Curran
Amanda has been training with Tralee based soprano, Lisa Curran for the past year.
Ms. Curran described her as someone who arrives with a big smile and has always a great story to tell.
"Amanda has this fantastic ability to make a song her own, she has lots of very creative ideas around singing and the type of songs she likes and about the music that should go with them. She's a girl who knows what she wants and isn't afraid to go and do it.

A Great Mood Changer
"With everything shut down around us at present this project with Amanda has been a great mood lifter and we're all delighted to be involved with her in it," said Lisa.
All Proceeds to Asiam
"This is a dream come true for me and it's my big chance to do something for charity and I always wanted to do that," said Amanda.
"I can't thank Lisa Curran, Tom Lucey and Brendan O'Connor enough for all the help and support they gave me in getting this recording out there and  because of them I'd love to go and make a career out of my singing – they are just fantastic," said a delighted Amanda.
All Proceeds to As I Am
The video includes clips of families with members with autism from across Ireland and every last cent of the proceeds of the streams from Spotify and purchases from your chosen music download site will go directly to the charity As I Am to allow them to continue supporting autism families across the country!
For more information on Amanda's favourite charity please Click on the link here: https://asiam.ie/