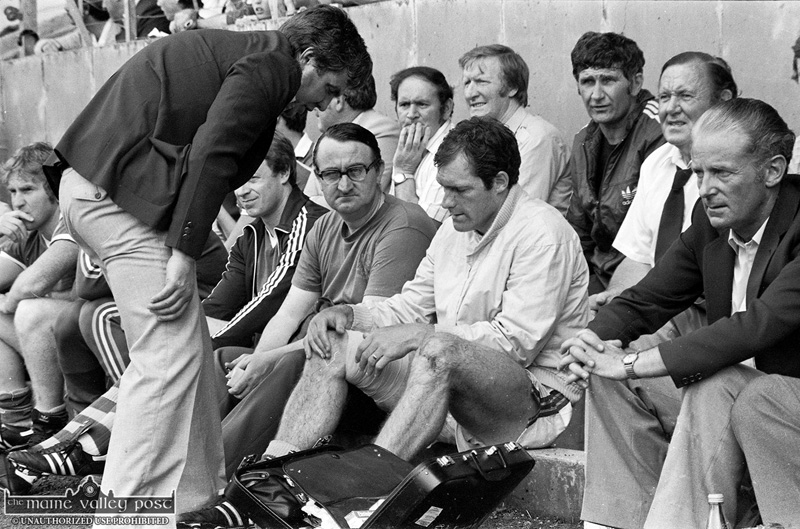 I had it in my head to write that I had been going over the files for a client but, in my inner screen, I could see PJ Teahan smiling at me.
But, it was PJ who prompted me to look at filed negatives from the 1983 Munster Senior Football Final between Cork and Kerry as he and Brendan Watson were among the fans photographed in the Now and Then newspaper – later to become The Kingdom.
Thunderous Downpour
That was the day which will be long remembered by those who attended for the summer rain, thunderous downpour in Cork City and in the vicinity of Páirc Uí Chaoimh but it all cleared away for the big game.
There is another outstanding reason that fans on both sides will remember the game.
A last minute bolt from the blue as Cork stole the game with a last minute goal which gave, Kerry no chance as referee John Moloney blew the full-time whistle as soon as Charlie Nelligan's boot touched the dead ball on the kickout.
Surreal But Connected Reason
I remember it specifically for another surreal, but connected reason and from the eve of the game.
I was in John Shanahan's Bar as his son, Humphrey had been through – and survived scratchless – an adventure of near miraculous proportions a couple of days previously.
I was getting the details of the event when Charlie Nelligan and his College Road neighbour, Mikey Broderick came in.
In Walked Joe Carmody
Charlie was chilling out with something harmless in a glass when in came Glountane man, Joe Carmody.
As the banter about Kerry's possible nine-in-a-row of Munster senior titles went back and forth along the bar – with little or no input from the star goalkeeper, Carmody lobbed a hop-ball in Charlie's direction:
"Nelligan, you'll leave in three goals tomorrow," he said and that killed the conversation dead.
On the Day of the Game
On the day of the game and in the second half I was positioned behind Charlie's goal and Kerry was in control of the game and had scored three goals and nine points to Cork two goals and ten points at that stage.
A late Cork attack floundered and the ball dribbled out by where I was standing.
Agitated, Angry And Fired Up
An agitated, angry and fired up Charlie came back to retrieve the ball and I said some thing like 'you're doing fine.'
But I'll always remember what he said to me: "I'm thinking of what Carmody said last night," he said before booting the ball out of his sight.
We all know how superstition is a constant travelling companion of sportspeople and I hoped that the 'Carmody Curse' wouldn't come to pass.
Carmody's Curse Rings True
Joe Carmody's prediction rang true only minutes later when wing forward, Tadhg Murphy caught a lofted ball from a Cork free and his effort spun off Charlie's right hand post and into the net to give Cork a 3-10 to 3-9 win – their first Munster Senior Football Championship win since 1974.
PJ and Brendan are not among my photographic souvenirs from that day but I'm checking with Don MacMonagle as there were three of us from the Now and Then Newspaper covering the game that day.