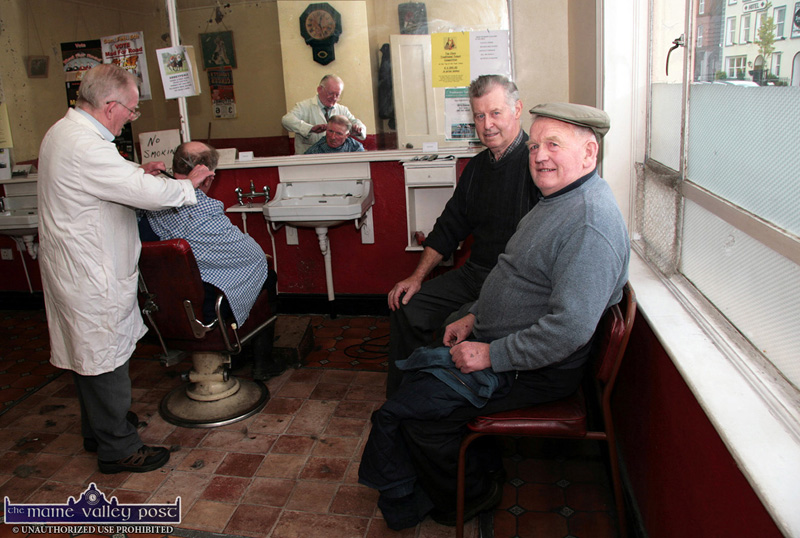 Abbeyfealegood – Enjoyable if Bittersweet
There was a very enjoyable programme on RTE1 last Monday night filmed between the barbers and hairdressers in town.
It was bittersweet to see the late Canon Neville who was interviewed while he was in Florry's for a haircut – he died two days later.
By: Marian Harnett
Bishop Leahy Reaches out to First Holy Communion and Confirmation Children
Sunday 19 April 2020:  Bishop of Limerick Brendan Leahy has admitted the pain and sacrifice that the public has to endure due to the COVID-19 impact on Church services and sacraments, including now First Holy Communion and Confirmation, is difficult but stressed that 'the Church is very much alive' in these times.
Curtail the Spread of Covid-19
In a statement read out after 12 midday at the weekend at St. John's Cathedral, Bishop Leahy said that the postponement now of First Holy Communions and Confirmations, on top of the many other restrictions with funerals, weddings, baptisms and other services, is, sadly, unavoidable to help curtail the spread of the Covid-19 virus at this critical time.
Support From Young People
Bishop Leahy will write this week to children preparing for the sacraments to encourage them following the postponement of these special moments in their young lives and spoke today also of the support he has received from young people at this difficult time.
And he also said he was encouraged by the coming together in prayer that is happening with families across the diocese in a way they did not experience for years.
What's Happening ?
"As we move towards the end of April, an increasing number of parents are understandably asking 'what's going to happen to the First Communion and Confirmation ceremonies? said Bishop Leahy.
"Clearly because of where we are now in this critical stage of the battle against Covid-19, we can certainly say they are not going to happen in April or May. But, after that?
"Like all others, we must adhere to public authorities and what advice they give regarding large public gatherings.
So, right now, it is impossible for us to re-schedule First Communion and Confirmation. And this is also true for Baptisms and Weddings.
Postponement of the Sacraments
"The postponement of the First Holy Communions and Confirmation will come as a disappointment to some. Though understandable given the Covid-19 crisis, it is a further sacrifice not least for the children."
He continued: "I hope to write tomorrow to the children preparing for their First Communion and Confirmation to offer them words of encouragement.
This week I got a lovely drawing of the Risen Jesus from eight-year old Carmel. I would invite girls and boys preparing for either First Communion or Confirmation, if they want, to send me in a drawing or write to me to let me know about what they are learning about Jesus or the Holy Spirit.
Drawings, Questions and Answers
I would be very happy to receive such drawings and letters. Maybe you have a question for me. I can try to get back to you with an answer.
"I am grateful to our diocesan advisors who have put resources up on our diocesan website for the children preparing for first communion and confirmation. As well as thanking all school principals and teachers for continuing to keep such great contact with children, teaching on-line and providing resources, I want to thank the teachers of the children preparing for First Communion and confirmation for keeping them in touch with the Grow in Love lessons.
It is great that the Grow in Love on-line resources have also been made freely available for parents by Veritas on their website."
Uncertainty at All Levels
Bishop Leahy said it is a strange time for us all, not least because of the uncertainty at all levels.
"It is indeed a topsy-turvy time. What can we say about all that's going on for the Church? No masses, churches closed, no Eucharistic Adoration, the sacraments of First Communion and Confirmation postponed, and even pastoral visits to the sick and dying curtailed… All of this is painful. None of us have ever experienced anything like it. Though we understand why, nevertheless, some wonder what is it saying to us about the Church and our regular Church practices.
Pray As A Family
"Let's think about it. We can pray as a family. Yes, we love our church buildings but we don't need them for prayer.
"Prayer can happen around a table or sitting together in a sitting room or privately on our own."
"There are, of course, many other ways for the family to be church, above all by loving one another. "So, Covid-19 is indeed an enemy. It has closed your church and postponed celebration of the sacraments. But, paradoxically, it is also prompting you to recognise in a new way that God has opened a church in your house," Bishop Leahy concluded.
World Vision Ireland Essay
World Vision Ireland has extended its deadline for the childre's essay at home during COVID-19 shutdown.
World Vision Ireland has extended the deadline for their Climate Change Essay Competition so that children can write essays in their homes, while schools are closed during the COVID-19 shutdown. The charity is calling on children across the country to put pen to paper and enter their Climate Change Essay Competition, which will be judged by Ryan Tubridy.
Meeting Ryan Tubridy – Eventually
The winner will get the chance to meet Ryan Tubridy in the RTE studios – when schools and businesses reopen – and will also win a €500 Smyths voucher.
World Vision Ireland's Climate Change essay competition 2020 is opened until April 30th for children between the ages of eight and 18.
The entries will be narrowed down to the final 10, and celebrity judge Mr. Tubridy will choose the winning essay.
Abbeyfeale Community Alert – Beware of Covid-19 Scams
If you are living alone and need assistance or advice phone one of Abbeyfeale Community Council Helpline Numbers any day 9-5pm on the numbers below.
Wash your hands with soap and hot water for at least 20 seconds every time you leave the house, re-enter the house, do the shopping, unpack the shopping and any time you think you should.
There is a really dirty, cruel, horrible scam on the go these days where the crooks send out a text stating that they are from the HSE:
"Someone who came in contact with you tested positive or has shown symptoms for COVID -19 and recommends you self isolate / get tested.
Ignore / Do Not Click On The Link: They can steal your credit card and personal details in seconds.
This is not how you will be contacted if you have been in contact with someone. Another one is where they ring you up on the pretense of being from the HSE to send you a supply of face masks, sanitizers etc to keep you safe – and then they look for your bank card details.
Drop The Phone – Cut the Call Dead
Avoid 'opportunities' to work from home with no interview, no previous experience and a heart stopping remuneration package. They'll be looking for a fee in order to begin work/training.
Don't entertain callers offering to do jobs around the house.
Remember that all the shops have designated times in the early morning for shopping for the elderly or if you are cocooning and need shopping or messages, contact the local committee who have been set up by Abbeyfeale Community Council on the numbers here: Abbeyfeale Community Council Helpline Numbers any day from 9am to 5pm on the numbers below: 068 31169, 068 32080 or 087 75 71 144.
The Gardai are also available on 068 30 010 and they too will pick up medicines, messages etc..