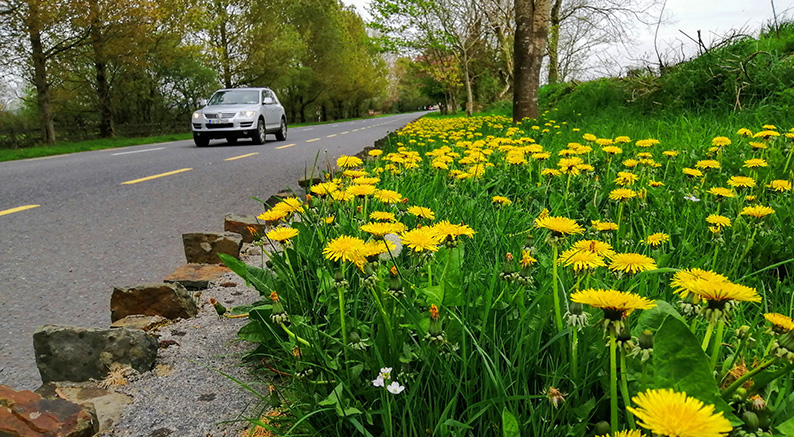 Let Earth Day Message Soften our Edges
According to the UN, April 22nd was designated Earth Day.
This day acts as a reminder to look at how we engage with our planet in everything from how we recycle, reuse or re-purpose materials in our lives to planting and caring for the natural world all around us.
If the recent pandemic has shone a light on anything, it is the importance of having a healthy relationship with our planet.
Our Daily Existence
Let's take the good ideals of Earth Day and bring them into our daily existence for the rest of the year making our small corner of the globe a place where all of nature is respected and the hardworking honeybee can thrive.
Think twice about the use of pesticides and harsh chemicals.
Ease Up on Straight Edges
Ease up on the notion that straight edges, manicured gardens and weed free spaces are a sign of our triumph as human beings.
They say God is in the detail – let some of the glorious unpredictability of divine mother nature creep into our lives and soften our edges.
Brosna is Blooming Marvelous
How wonderful is the village looking at present? The trees in their planters that line the main street are putting on leaves and the many beautiful flower bulbs have burst into colour.
Thanks to all involved for making our village so attractive and a special mention to Christopher Taylor who has taken on the task of maintaining these beautiful flowers.
We truly appreciate your kind efforts.
Con Curtin Music Festival 2020
It is with great disappointment that the amazing committee behind the Con Curtin Traditional Music Festival say goodbye to their 20th year anniversary celebrations.
A dynamic and diverse programme of activities booked to run from June 26th. to 28th. must be cancelled due to the continuing lock-down.
The committee would like to thank all the musicians, singers and dancers who had agreed to perform this year and to especially acknowledge the incredible support from sponsors and the local community.
Let's look forward to a happier time when we can all join together in music, song and dance.