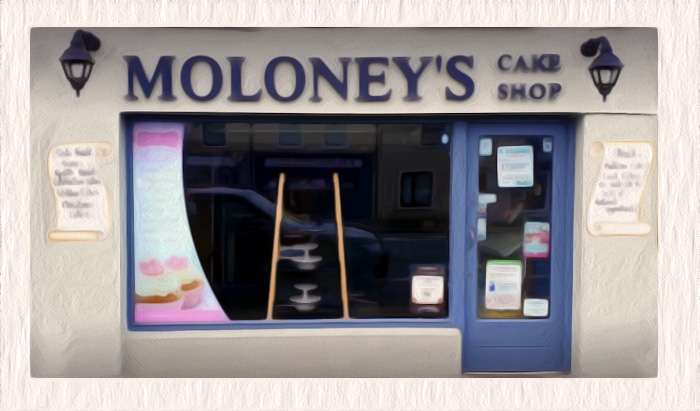 A family business now in its fourth generation, and one which has been through and seen off many a crisis in its 90 years of existence, has just reopened after the severe lock-down period of the past six weeks.
Moloney's Cake Shop is, you could say, a self raised, family business from its 1930s grocery shop origins to today's multi choice offering of baking and confectionery.
A Great Feedback
"We have been getting a great feedback and welcome from our loyal customer base since we reopened on Wednesday," said Margaret Moloney – a member of the third generation in the business at 102 Upper Main Street.
"We have build up a great relationship with people of all ages throughout this and neighbouring parishes through our involvement in the big occasions in so many people's lives through providing special cakes for anniversaries, births and birthdays, retirements, weddings and all special occasions," said Margaret.
Stepped The Business Up
"Our parents, Nancy and Jerry stepped the business up quite a bit in the late 1950s when they built on a bakery to the back of the shop and the main produce at that time would have been bread, tarts and cheese cakes.
"Nowadays we make seven different types of bread here to satisfy the demands of our customers along with the traditional tarts and fresh cream cakes and a variety of buns spanning at least a baker's dozen.
Missed Our Regular Customers
"We're kept busy all the year round and at Christmas we're into the very traditional Christmas cakes, puddings and mince pies.
"We missed meeting all our regular customers since early last month and we're glad to hear that the feeling is mutual. We're all getting used to the social distancing and dealing with one customer at a time while the others queue outside.
"If that's how we're going to get through these times then that's what we will do. It's good to be back – even if it is in such a very different way," said Margaret.
Moloney's Cake Shop is open from Wednesdays to Saturdays from 8:30am to 4pm for a few weeks. Customers can ring in their orders for collection to: 066 71 41 636 or Email: moloneyscakeshop102@hotmail.com