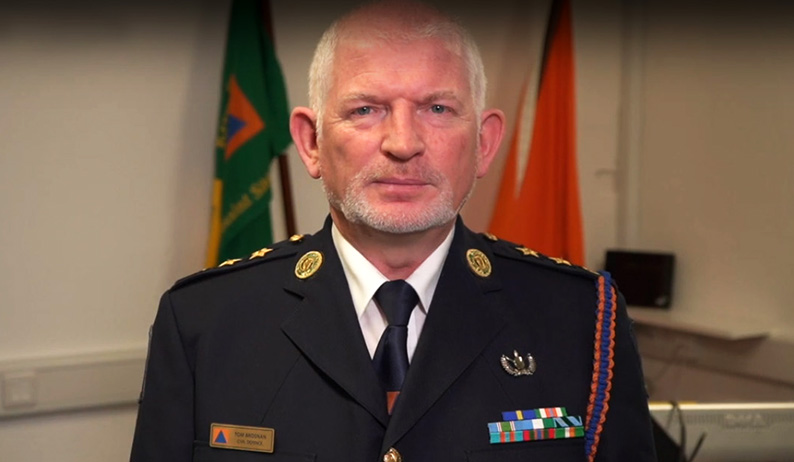 Front-line workers across Cork and Kerry have joined together in a video plea to people in both counties to "Hold Firm" in their efforts to contain Covid-19.
The video, an inter-agency project between an Garda Siochana, the HSE, Cork City Council, Cork County Council and Kerry County Council features front-line workers asking people in Cork and Kerry to continue to play their part in stopping Covid-19 by sticking with the guidelines and restrictions.
A Reminder of Where We Are
The video, which can be viewed by following the link below, serves as a reminder of where we are to members of the public as the bank holiday weekend approaches.
It will also be shared on the social media platforms of all the agencies involved.
Supporting the 'Hold Firm' message, Cork City Hall and County Hall in Cork and the Kerry County Council buildings in Tralee will light up in rainbow colours tomorrow, Friday night.
Poem by President Higgins
The video closes with stunning footage of Cork's County Hall lit up at night.
The rainbow is the symbol of the 'Hold Firm' campaign across the country, which was inspired by the poem Take Care which was written by President Michael D Higgins which closes with the lines:
Hold firm, Take care, Come home together.
Included on the Video
The video includes contributions from the following: Una Rea, Staff Nurse at the CUH;
Eileen Coleman, Fleet Manager, Cork County Council; Marcela Whelan Kelly, Events Co-ordinator, Cork City Council; Owen Dunlea, General Operative, CUH; Marian Jones, Dental Nurse, Cork Kerry Community Healthcare; Micheál O'Flaherty, Executive Librarian, Cork County Council; Lisa Boland, An Garda Siochána and Castleisland native, Tom Brosnan, Civil Defence Officer, Kerry County Council.
What They're Missing
The front-line workers detail what they're missing and looking forward to, including seeing their children again,family dinners and meeting up with friends.
Nurse Una Rea points out that working together, the people of Cork and Kerry have 'flattened that curve' and stresses that every point on the graph is 'a life saved, someone still with us because we held firm.'
However as Eileen Coleman, a fleet director with Cork County Council makes it clear that: 'This isn't over, and we're not done yet.'
One Step at a Time
Marian Jones, a dental nurse in Kerry says that she's asking the people of Kerry and Cork to Hold Firm with her, while Tom Brosnan of Kerry County Council reminds people that:
'What we need to do is hold firm and take this one step at a time.'
You can view the video with a Click on the link here: https://youtu.be/rl5WF7VsZvo