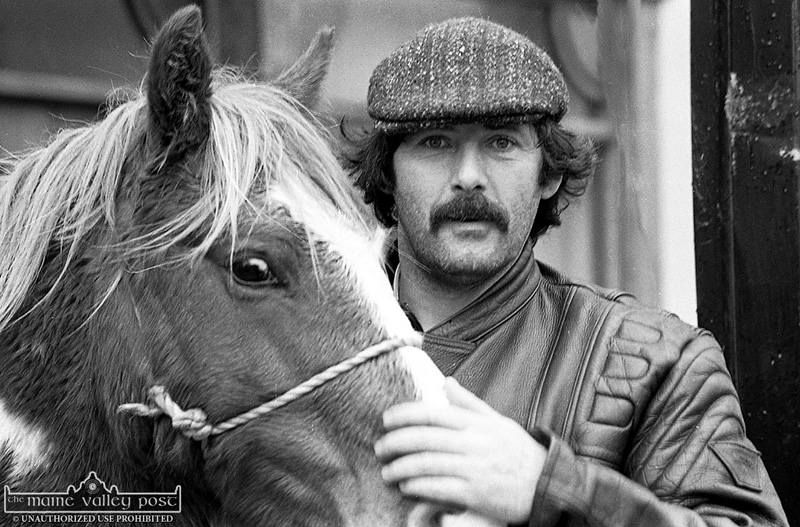 The death has occurred of Michael 'Butty' Sugrue, 10 St. Stephen's Park, Castleisland, Co. Kerry and Glenealy, Co. Wicklow.
Unexpectedly, on May 29th 2020. Predeceased by his parents Michael and Hannah, his sisters Kathleen, Hilary and Mary Geraldine and his brother Pa.
Sadly missed by his heartbroken partner Marie O'Toole, Emmet, brothers: Eddie, Denis, Joe, Daniel and John, sisters: Mag, Philomena, Mary, Denise, Caroline and Elaine, brothers-in-law, sisters-in-law, uncle Jamsie, aunt Mary Bridget, nephews, nieces, relatives, neighbours and a large circle of friends. May his gentle soul rest in peace.
On Church Street and Main Street on Friday Morning at 10:30am
A private family funeral will take place for Michael.
On Friday morning Michael's funeral will leave Tangney's Funeral Home at 10.30 am and will travel up the Main Street of Castleisland on its way to a private cremation at 1pm at the Shannon Crematorium.
A memorial mass for Michael will be held at a later date in Castleisland Parish Church.
Date Published: Wednesday 3rd June 2020. Date of Death: Friday 29th May 2020.
A Character and a Gentleman
At Paddy Jones' funeral procession on Tuesday morning, around Tangney's Funeral Home, people were asking if there was any news on Butty's funeral arrangements' as they didn't want to miss paying their respects to a larger that life character.
Michael 'Butty' Sugrue (62) died suddenly on Friday last, May 29th.
Ironic Nicknaming
Butty, he was not –  but that's Castleisland and its knack of ironic nicknaming for you – apart from that it was adapted from the famous 1920s born Killorglin 'strongman' Butty Sugrue.
Our Butty was a fine cut of a young man growing up. He had a streak of airy confidence and infectious independence and plenty to back it up if needed.
Ticking away and keeping it all going was a heart of gold and a willingness to go out of his way to help anyone who needed it.
Character Frozen in a Photograph
I have loads of memories of Butty but the one which typifies his character is forever frozen in that photograph of him I took at the 1998 Castleisland Horse Fair.
I was strolling through the fair to get my quota of pictures and Butty appeared in front of my camera without a rope or a stick – or, as Con Houlihan put it: 'without a rood of ground – but wrapped in the freemasonry of the day'.
Assuming the Pose
He nodded 'Are we right John' and assumed the pose and I responded with a couple of frames. "Will that be in The Kerryman Friday? It will – I said. "Thanks John," and he was gone. That was Butty.
His brother Denis accompanied Bernard Tangney today in collecting Butty's remains and bringing them home to Castleisland for his final salute to and from the town he loved so well.
"He was the best brother you could wish for. He was my best man at my wedding and he was Godfather to my son," said Denis.
Carer to his Brothers and Sisters
"He was always a carer to his brothers and sisters and he went out of his way in the role of being the oldest of the boys in the family – we'll miss him terribly," said Denis.
Carrying the mantle of character was something that rested very easily on Michael's shoulders.
It was certainly a case of briseann an dúchas trí shúile an chait as his late father, also Michael 'Moc' was the subject of an entire article by no less than Con Houlihan.
The article was featured in The Evening Press and is now between the covers of one of Con's books and you'll find it on pages: 225 to 229 in the 2002 published, In So Many Words.

Sheila's Code of Ethics
The late Sheila Prendiville had a code of ethics in her bar and grocery shop which stood her in great stead for over half a century of trading at No. 22 Main Street.
It had nothing to do with dress. You could land in to her with your tie on backwards or no tie at all. But Sheila kept a book for her own sake and that of her suppliers and customers.
That bookkeeping kept the secrets of the bad and the good of the trading she did with those who stepped in off the street down through all the days of that half century.
There were no awards for anything in those days but Moc and a small handful of others were firmly on Sheila's most honourable list.
'We Never Fell Out'
Her criteria for inclusion on the list was simple: "We never fell out in all our years of dealing."
It's odd, but there are things you're told or hear about years ago that can sometimes come back to surprise you as all their relevance step out in a new light from the folders of time.
As I heard from several people on Tuesday morning about Butty's good nature and big heart, I could also hear Sheila Prendiville talking about his dad. Briseann an dúchas – indeed.
The Last Time We Met
The last time I met him he was sitting in for Santa at Crag Cave and I, as a grandad, was accompanying my two little treasures on a voyage of barely containable wonder.
I didn't recognise him in his new role and, to my utter surprise, I heard 'Santa' giving my little grand-daughter a quick and accurate summary of my life to date.
I had to say hello to Santa and express my surprise that he kept tabs on old fellas. A, by now engaged, voice recognition sense and a whispered exchange put me in the picture and I knew who I had.
Thank you Santa. May God be good to you Butty.