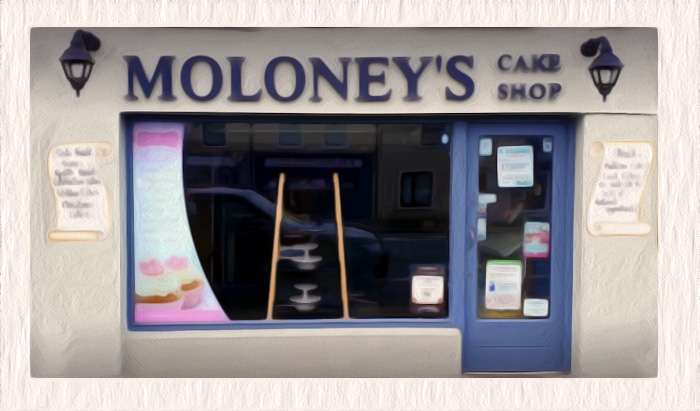 Moloney's Cake Shop at 102 Upper Main Street, Castleisland re-opened its door to its local and regular customers at the end of April.
This was after a Covid-19 lockdown period of the preceding month which the fourth generation family business had to endure.
It was a fate shared with fellow shopkeepers throughout much of the world at the time.
Most Welcome Feedback
It seems appropriate that the shop got a most welcome 'feedback' when it announced its return to the daily lives and table settings of the loyal customers and friends it has built up in the course of its 90 years of existence at No. 102.
Because the shop was one of the first into the breach locally and has now built up almost six weeks of experience of trading in a restricted environment, family member, Margaret said that people have been great and understanding and very welcoming on their return.
Complacency on Hand Sanitising
However, she warned that people seem to be getting a bit more complacent around the vital issues of regular hand sanitising.
"We have, of course, provided the sanitiser station here in the shop and we remind our customer and people who drop in to use it. But I just noticed lately that people are beginning to take it all for granted," said Margaret.
"Overall, people are very good about allowing space for others to come into the shop and exit – and you'd see them waiting outside the door and there's always a lovely bit of banter going on between them.
Best Medical Advice
Asked if there's any one bit of advice she could pass on to businesses reopening over the next couple of weeks, Margaret said you have to make sure and, sometimes, insist that people use the hand sanitisers.
"It's the best medical advice available to us and we should take it seriously to get us all through this tough situation," she said.
Email / Ring and Collect Orders
Moloney's Cake Shop is open from Wednesdays to Saturdays from 8:30am to 4pm until further notice.
Customers can ring in their orders for collection to: 066 71 41 636 or Email: moloneyscakeshop102@hotmail.com
(Advertorial)