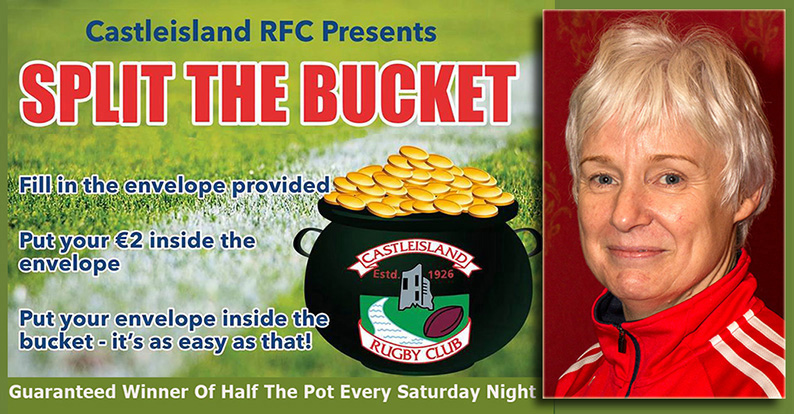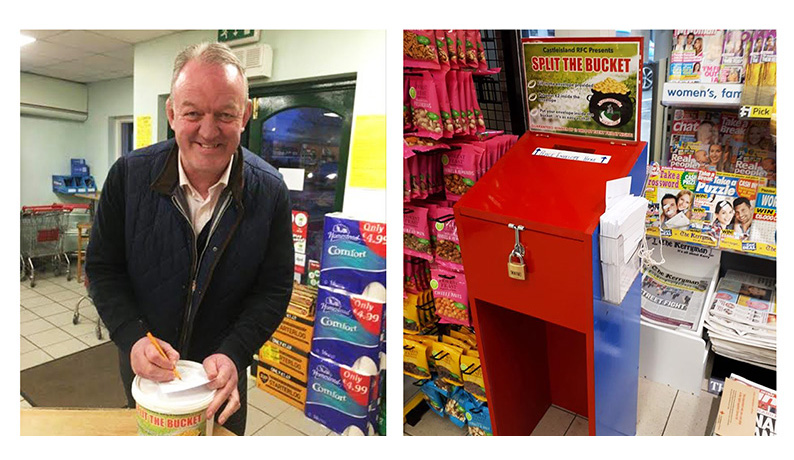 Castleisland Rugby Club PRO Nóirín Uí Chathasaigh announced a pause in the club's Split the Bucket Draw activities on March 19th and it now seems such an age ago.
At the time, Noirín said that any entries they had in before having to call a halt would be entered in the first draw when it returned.
Now, the Split the Bucket signs are all up at strategic locations on the approach roads and the buckets back in the shops.
New procedures on playing and posting your entry have been put in place with health and safety and hygiene the major concern.
The first draw will take place on the coming Saturday, June 20th.

Specially Constructed Boxes
Specially constructed boxes and envelope providers have been put in position in Centra and the club hopes to get  permission from Garvey's SuperValu to catch the footfall there.
Further measures like self sealing envelopes have been added for extra safety.
The club has now set up an on-line system as another option to keep the club's supporters and volunteers safe as we move out of the lock-down era. See the link for this below.
The last winner before the break was Stephen McCarthy whose ticket was drawn at The Shoemaker's Bar. Stephen won €1,050 on that occasion.
Take Envelopes Home
"We would like to thank everyone for their support up to this point and we look forward to making many more 'thousandaires' in the future," said Noirín.
The club is encouraging people to take some envelopes so that you can fill one in at home and drop it in one of the buckets in the shops locally.
"We hope that this will help people maintain social distancing while shopping local," said Noirín.
https://app.superpayit.com/recurring-payment/initiate/iM16Pww/?fbclid=IwAR2o5cnHeUkab1aqHy1iSgQAnddRG8bd-Yp7VDStT1F-nZ6TR7nCPnMbgko