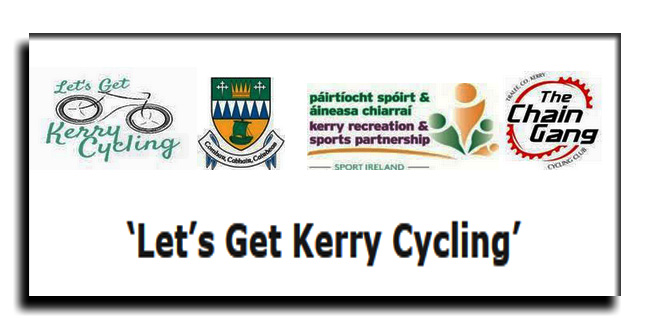 As part of the national campaign aimed at promoting activity, mental well-being and staying connected during the COVID-19, on Friday evening Kerry County Council launched another element of the well-being campaign, called 'Let's Get Kerry Cycling.'
This announcement sees this initiative being rolled out over the coming weeks, commencing Friday, July 3rd and will run until Sunday, August 16th.
Previous campaign elements included the 'Kerry Step Challenge' and the 'In the Bag' initiative.
In this Together
The #inthistogetherkerry Campaign is building on the concept of doing something that makes people feel a little healthier and a little happier during our current times.
Therefore, Kerry County Council, Kerry Recreation and Sports Partnership/Sport Ireland and the Chain Gang Cycling Club have developed a unique and enjoyable programme of simple cycling themed activities, which are suitable for people of all ages and abilities.
A Six-Week Programme
The 'Let's Get Kerry Cycling' initiative involves a six-week programme comprising of six fun themed activities, based on our humble bicycle.
The weekly activities will include week one cycling solo or with a friend to the shop or perhaps meet for an outdoor cuppa, week two a family cycle, week three a cycle to a historical monument or a Wild Atlantic Way sign, week four a cycle wearing ones' favourite club or county colours, week five a cycle to the water's edge and let's wrap up the six weeks by cycling a marathon of 42.1km over seven days during our final week!
Meet and Greet
There will be lots of fun completing these manageable challenges and activities and possibly meet and greet other cyclists and neighbours along the journey throughout the different localities.
Individuals and family members will exercise personal responsibility over the six-week time-frame, bearing in mind the themed cycles are to be completed within the current HSE and recommended travel guidelines.
Interactive Initiative
We are hopeful the 'Let's Get Kerry Cycling' initiative will be interactive, through the sharing of photos and experiences of one's adventures.
Also, anyone who signs up has the option to choose a stylish neck buff from four different styles. Throughout the six weeks we will have a weekly 'surprise' for the best photo and story shared.
1956 Rás Tailteann Winner
Launching our initiative is our programme ambassador, West Kerry legend the wonderful Paudie Fitzgerald, former winner of the 1956 Rás race and president of Dingle Cycling Club, who at 87 years young is still living an active non-retiring life!
In this, 'Together Kerry' is spearheaded by a group comprising Kerry County Council's Community Department, the Kerry Public Participation Network, the Kerry Age Friendly Programme, Healthy Kerry, Kerry Recreation and Sports Partnership, Kerry Library, Kerry County Museum and the Kerry Arts Programme.
To get involved, all sign up all details are on the sports partnership website. Simply click here for more:   www.kerryrecreationandsports.ie via Eventbrite and you can follow it all on Facebook.