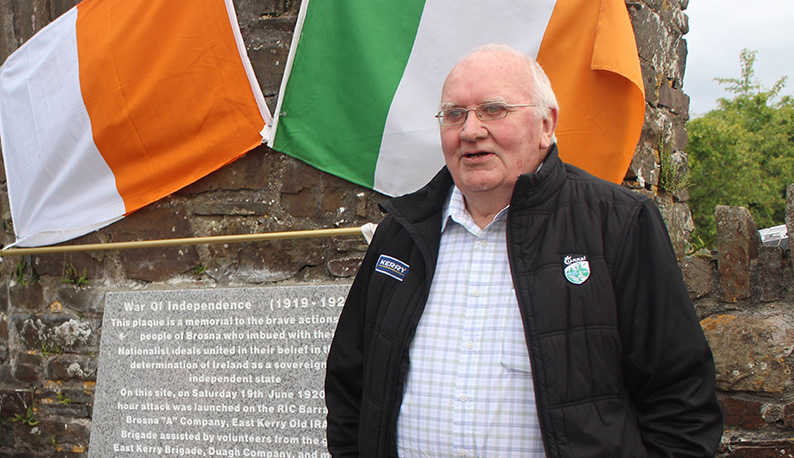 A century after one of the fiercest local actions of the War of Independence, a socially-distanced crowd gathered at Brosna barracks on the evening of 19 June to commemorate their brave kinsmen and kinswomen who co-ordinated an attack on the local RIC stronghold in 1920.
Tom Roche brought the events of 1920 thrillingly to life.
Brosna A Company, under Captain Son McAuliffe, was made up of farmers, shopkeepers and business people from the parish.
Ordinary men and women who were part of a national movement that achieved extraordinary things.
We salute your memory.
A Thank You from Brosna School
All associated with Scoil Mhuire, Brosna would like to thank Knocknagoshel Meals on Wheels and Knocknagoshel Women's Group for providing an excellent hot school meals delivery service to the school this year.
Following school closures on March 12th the group maintained the service by providing fantastic hampers on a weekly basis to every pupil's home.
The schools in the area are looking forward to working with Knocknagoshel Women's Group again in the coming year.
Graduation from Knockaclarig NS.
Congratulations to the seven pupils in Rang 6 who graduated this year under Covid restrictions.
With cars fabulously decorated, the graduating students completed a novel drive-by graduation.
The staff and bord of management of the school formed a socially distanced guard of honour on the occasion.
We wish these young students and those from Brosna National School and Loughfouder the very best in the next chapter of their lives.
And not Forgetting
A special note of thanks to our three parish principals: John Cahill, Siobhan Lenihan and Liz Lane.
You've done sterling work keeping the wheels of education turning smoothly during the past months.
Hoping you get some time off this summer to recharge and renew in time for the exciting new school year ahead.
Mile buiochas.