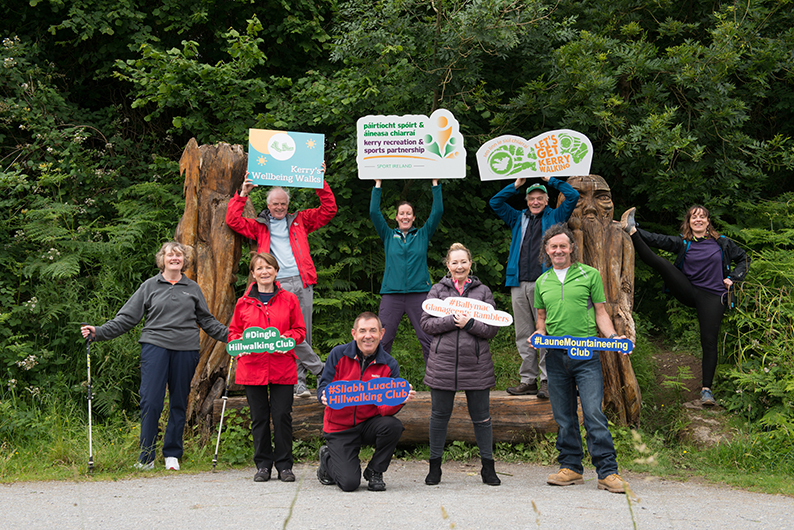 Since March we have all been asked to stay home and now, that these restrictions are being lifted, we can start returning to a more normal way of living.
With the reopening of the county, Kerry Recreation and Sports Partnership, is delighted to announce a new walking initiative called Kerry's Wellbeing Walks.
This is a continuation of Kerry County Council's "In this Together Kerry" Campaign. Previous campaign elements included the Kerry Step Challenge, In the Bag and Let's Get Kerry Cycling initiatives.
A Glance at the Wellbeing Mirror
We can lose ourselves very easily in the humdrum routine of everyday life, and we need to stop the world, get off the treadmill now and again, and at times we need an occasional look in our wellbeing mirror.
With this in mind Kerry's Wellbeing Walks was devised and is made possible by the Sports Partnership collaborating with the wonderful representatives of our local hillwalking clubs.
The walks are commencing on July 13th and will continue for six weeks.
Fit for all Fitness Levels
This is an invitation for people within and beyond the local communities, to join the walking clubs for a series of low-level trail walks, which are suitable for all fitness levels.
This is a fantastic opportunity for anyone who would like to socialise and extend one's social circle by meeting new people and getting active while being outdoors in nature.
Walking Venues
The walks will take place in the Ballymacelligott, Dingle, Killorglin and Sliabh Luachra geographical areas courtesy of the Dingle Hillwalking Club, Ballymac-Glanageenty Ramblers, Laune Mountaineering Club and Sliabh Luachra Hillwalking Club.
The cost is €10 plus a small service fee for all six walks. This programme fee includes a neck buff and will aid in rolling out and expanding this initiative across our county.
Pre-registering Important
It's important that one must pre-register as groups sizes are restricted to 15 participants in each location, so please sign up early to avoid disappointment.
"This programme is only possible because of the generous time given by representatives of our local hill walking clubs. It is a fantastic opportunity to meet new people in the community and perhaps even begin a new adventure," said Askea Calnan, the community walking programme facilitator.
Mindful And Respectful
While walking with the clubs social distancing will always be maintained as will the need to be mindful and respectful of the requests of the walking leaders.
Anyone interested in joining the walks, all information can be found on our website: www.getkerrywalking.ie