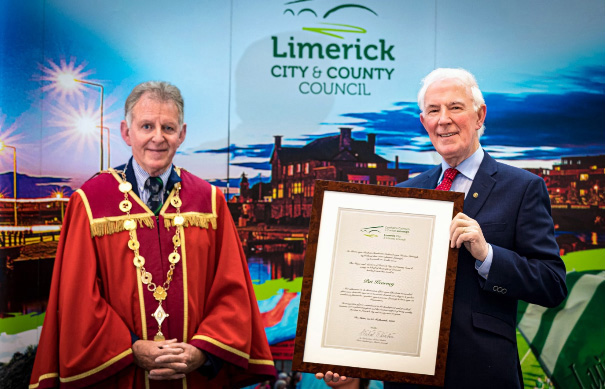 Castleisland native and Limerick resident, Pat Kearney was honoured in his adopted city and county recently for services rendered there over the past half century.
"I was invited / instructed / ordered – or whichever way you'd like to put it – to attend a Mayoral Reception at County Hall, Limerick City last week," said Pat by way of explanation.
Mayoral Scroll
At this mayoral reception Pat was presented with a scroll by the Mayor and members of Limerick City & County Council acting on behalf of the people of Limerick in recognition of his commitment to the development of business and the growth of residential areas of Limerick and for his support of charities in the area over the last 50 years.
Due to the current rules and regulations surrounding the assembly of people in public areas, Pat was confined to bringing five members of his family to the reception with him.
Anniversary of Arrival in Limerick
On a separate note, tomorrow, Friday, July 3rd 2020 will mark be the 59th anniversary of Pat Kearney's arrival in Limerick City as Garda Pat Kearney.
It is through his work as commercial property director of the family business, Rooney Auctioneers that Pat Kearney has played such an influential role in the life of the city and county of Limerick over all those years.
Company Work Ethic
Rooney Auctioneers also has a qualified full time staff of 11 to help its clients with all property transactions.
The company work ethic is clearly flagged by the fact that its city centre offices are open six-days-a-week from 9am to 6pm.