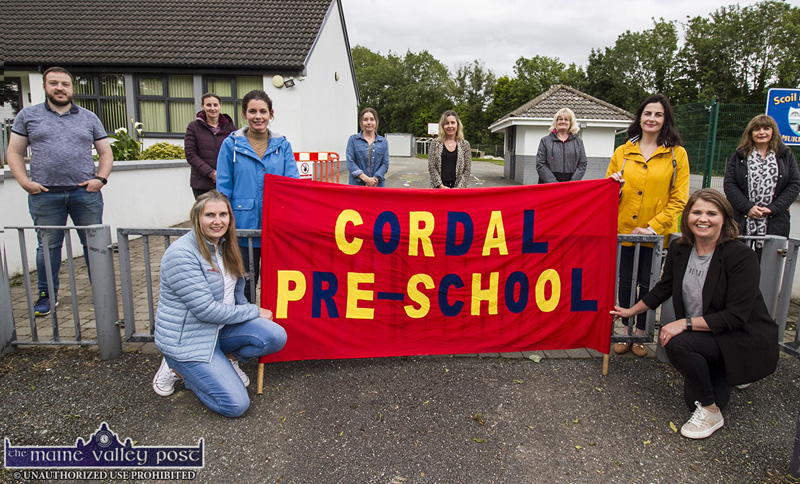 Cordal Community Preschool and Afterschool is a community run project and a non-profit childcare facility which operates on the grounds of Kilmurry National School in Cordal, Castleisland, Co. Kerry.
This service is run by a voluntary committee and presently employs up to four staff since the year 2000.
"In 2019 a significant milestone was reached when Kilmurry National School granted us permission to rent land on the school grounds in order to construct a purpose-built childcare facility," said committee spokesperson, Noreen O'Connor,
Full-Time Childcare
"This is a fantastic achievement for our community and will enable families to receive full time childcare from the hours of 8.30am till 6pm Monday to Friday all year round in future," Noreen continued.
"Our new build which is currently under construction will cost approximately £160,000. With accumulated savings and financial assistance, we endeavour to have this purpose-built facility operational very soon for the community of Cordal.
GoFundMe Page
"Unfortunately, this much needed project has received no government funding to date so therefore we are setting up a Go Fund Me Page to reduce the financial burden on our non-profit organisation.
"We are now asking the public to come on board from the communities of Cordal, Castleisland, Scartaglen, Currow and neighbouring towns and villages.
"We are also calling out to young men and women who live abroad that have used this facility in their younger days to show their support and help us to Build Our Future.
Pre-Covid-19 Fundraiser Cancelled
"We completely understand the difficult and uncertain times people find themselves in so any help that can be provided will be appreciated to help us achieve our mission.
"Prior to Covid –19 pandemic we had committed to organising a large-scale fundraiser initiative but this had to be cancelled due to these unprecedented times and in line with public health guidelines.
Follow the Link 
"This is why we have chosen this initiative as it keeps our community safe in these strange times.
"The new facility will help the children of our future to be nurtured, challenged and foster independence in a safe warm and stimulating environment," Noreen concluded.
A click on the link here will take you to the committee's GoFundMe page:
https://www.gofundme.com/f/jeg9q-help-build-our-future?utm_source=customer&utm_medium=copy_link&utm_campaign=p_cf+share-flow-1