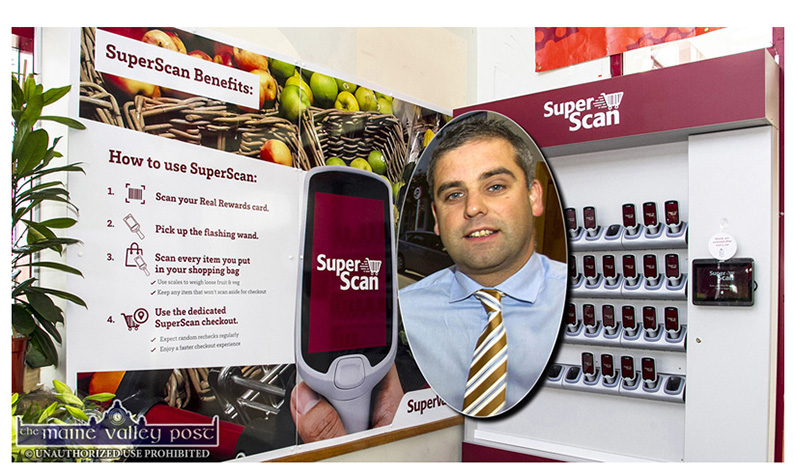 Wednesday of this week saw the roll-out of new Covid-19 prompted technology at Garvey's SuperValu here in Castleisland.
The roll-out of the 'Super Scan' self scanning technology has been described as ushering in an era of 'Business Class Shopping.'
The Super Scan lives up to its name as it puts all the controls in the hands of the customer.
It keeps tabs on the accumulating goods in the basket or the trolley and people know exactly what they're spending as they shop.
Cut Out Queuing
"Another one of the real benefits of the Super Scan is that it cuts out the need to unload all your shopping for the cashier to scan and load them back into the bags again," said branch manager, Séamus O'Connor.
"You just scan in your Rewards Card at the station at the entrance to the store and pick up the flashing scanner. You scan as you shop and hand the scanner to the cashier and the total is there and that's your transaction with the cashier done in under a minute.
"This also means that you're handling your shopping only once while cutting out the need and the time it takes to stand in a queue as there's also a separate check-out for users of the Super Scan," Séamus continued.
Ahead of the Game
"We feel that we should push out the boat here in Castleisland as the town deserves a supermarket it can be proud of and that its people know they can trust.
"Castleisland is a 'foodie' town and we're reacting to the concerns and needs of our customers – and, as retail is moving so fast these days, we're making sure we're staying ahead of the game.
We're Here to Help
"If people are worried about the introduction of new technology to the store – they needn't be. The present system will continue and we are all here to help anyone with any concerns – as usual.
"People wishing to try the new Super Scan need only ask for advice and members of staff will be glad to help out.
"It's with the health and safety of our loyal customers and truly dedicated staff in mind that we've introduced the Super Scan technology – and, only one other store in Ireland has installed this advanced system," said Séamus.
You can subscribe to The Maine Valley Post for only €1.25 per week by following the link below. Thank you.
http://www.mainevalleypost.com/subscribe/