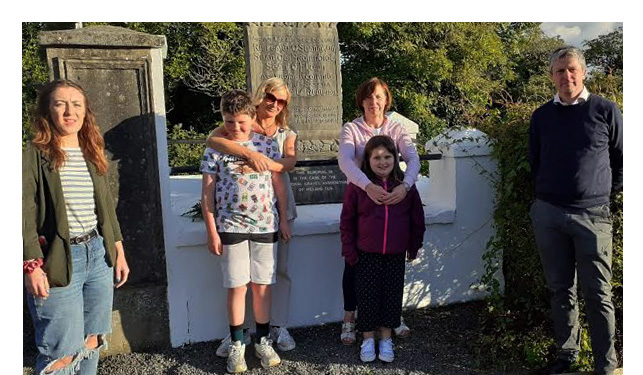 A Covid-19 dictated small gathering marked the 99th anniversary of the deaths of Richard Shanahan, Jack Prendiville and Jack Flynn who died in battle with the crown forces during a War of Independence shoot-out in Castleisland on July 10th 1921.

"Due to the current restrictions this year's event was a low key one but all focus now will be on suitably marking the 100th anniversary of these three men who made the ultimate sacrifice for their country in 1921," said spokesperson, Kate McSweeney.
Wreaths Laid at Monument
Noreen Prendiville and Aaron Shanahan O'Mahony, relatives of Jack Prendiville and Richard Shanahan, laid wreaths at the monument.
Sinn Féin Kerry TD Pa Daly is a regular attendee at this commemoration over the years.
"In his address on Friday evening he spoke of how, almost 100 years on, we still strive to reach the ideals of these three men who inspire us to continue our demands for a fair and equal society," said Ms. McSweeney.
See battle survivor Den Prendiville's account of that fateful night in 1921 on which he lost his brother Jack along with comrades and friends.
You can read it by clicking on the link here. www.bureauofmilitaryhistory.ie/reels/bmh/BMH.WS1106.pdf