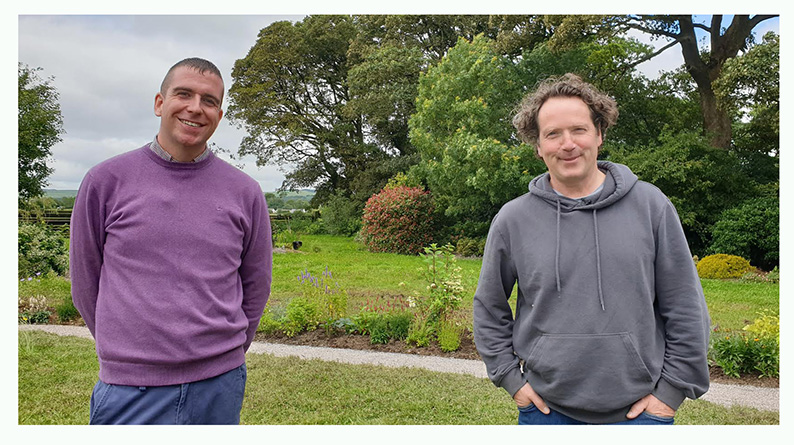 Gardening Together is a new television series on RTÉ One and BBC One Northern Ireland and the coming Friday night's episode on RTÉ One at 8pm will feature Castleisland's Shane McAuliffe and the fruits of his relatively recent conversion to the joys of gardening.
Presenter, Diarmuid Gavin will focus on Shane's massive and time consuming project at the historic Parknageragh House and his project of planting for pollinators in particular.
A jet-setting, in demand, specialist in animal health, Shane has come very much to ground with this all enveloping project which will be revealed to the nation on Friday evening.
Gardening for Wildlife
"I first got into gardening a number of years ago and it has developed more year on year and I focus on gardening for wildlife especially with the decline in important pollinators like bees in Ireland," said Shane.
"I see the garden as another habitat within the farm. Each winter we plant hundreds of native trees and hedging on the farms and this year we dug out wildlife ponds and sowed wild bird cover on two of our farms in Knocknagoshel to help enhance the habitat for the threatened Hen Harrier.
"I saw the call for gardeners to apply for Gardening Together back in June on a Friday evening at about 4.30pm and noticed the deadline was 5pm that day.
Facetime Meeting with Diarmuid Gavin
"I sent a short email about my garden and my general planting style and the producer rang me straight away asking for videos and Monday morning Diarmuid's project manager James was down to take more photos and measurements and then on Tuesday the TV crew arrived to film me having my first face-time meeting with Diarmuid.
Bought a Famine Pot
"Parknageragh House was built in 1840 by an Anglo-Irish man called William Thompson.
"My father purchased the house and land in the mid 1990s and restored it to it's former glory.
"A number of years ago I bought a famine pot I saw on the internet and for the last few years it was sitting in the corner of the stable-yard.
"These were brought to Ireland in 1847 by the Quakers when soup kitchens were set up to feed the people.
A Pot, A Wall and a New Feature
"Each summer since I had been telling my friends Patrick Barrett and Martin Murphy that this was the summer I wanted them to build a wall in the garden for the pot so I could use it as a new feature, I'm glad I waited!
"My brief to Diarmuid Gavin was to use this famine pot as a focal point in an area of large lawn I had that I wanted to convert to wildlife friendly planting.
"Diarmuid came up with the design and it was then up to me to get it done in time for the deadline. "Originally I was given a deadline for early July but my design was the biggest project in the series and thankfully Diarmuid extended it to the 28th of July.
Brought Perfection to the Build
"It was very tough and challenging to get it done on time but luckily I had great support from my friends.
"In particular, Shane Flynn and his son Sean, Patrick Barrett, Martin Murphy and Shane O'Sullivan. Diarmuid's design also included a gate leading into a courtyard so I was able to source a cast iron gate from Blackwater Antiques in Dromtariffe.
"It was extremely heavy and that brought it's own challenges but thankfully the skills my friends had in welding and block-laying meant that they constructed this part of the build to absolute perfection.
Delighted with the Result
"I must also thank Michael Lenihan and his mini digger hire for his expertise and our own local suppliers in Castleisland: M.P Moran's and Browne's Agri, Steel and Builders Providers and to our manager in McAuliffe's, Declan Mangan, who was able to bring everything together.
"I am delighted with the result and I hope it spreads the importance of planting for wildlife and biodiversity.
The Rewards of Gardening
"I think during Covid lock-down, many more people got out into their gardens and hopefully they realised just how rewarding it can be and how positive it is for your mental health.
"I travel abroad quite a lot each month for work and I love nothing more than flying back into Kerry Airport and going straight for a walk in my gardens to see the changes that have taken place since I was last there.
Shane's Gardening Diary on FB
"Because of lock-down I spent so much time in the gardens and I set up a new Facebook page a few months ago to use as a sort of photo diary for myself for the gardens and also hope that others may learn a thing or two about gardening for wildlife.
"There can be so much beauty in our very own backyard," said Shane in conclusion.
If you'd like to see Shane's Facebook diary of his year in the garden to date just click on the link here: http://www.facebook.com/parknageragh