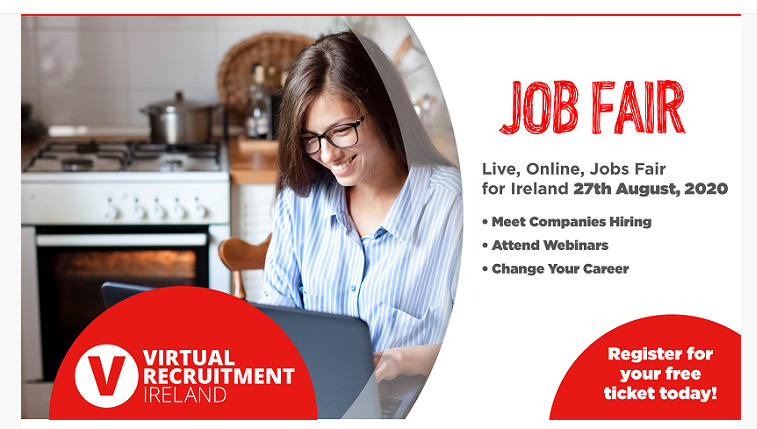 Nearly 80% of people's employment are affected by Covid-19; Over 70% are concerned about future employment prospects; Up to 50% of job-seekers are worried about recession.
These are the stark findings of a recent jobs and employment survey which revealed that a large majority of people's employment conditions have been hit by Covid-19.
This has led to many people being worried about their future security and are anxious about the thought of heading into another recession.
Remote Working – Here to Stay
The survey also sheds light on how remote working has become widespread with many believing it is here to stay in one form or another.
These have been found in a recent survey conducted by Virtual Recruitment Ireland – an online jobs fair connecting job-seekers with companies and recruitment firms, which takes place on 27th August.
Covid-19 Impact on Employment
The current pandemic has had a significant effect on employment with 78% of people surveyed saying that their working situation has been affected by Covid-19. 34% of people who responded to the survey said that their job had been severely affected by Covid-19, with another 25% saying that their employment had been moderately affected.
Concern for the Future
The survey also found that 72% of people admitted that they were concerned about their future employment prospects.
While Covid-19 might be the current challenge many are facing, looking to the future, it is the looming threat of recession that was listed as the main reason behind the anxiety many feel about the future.
Covid-19, Housing Crisis and business/industry having financial difficulty were also flagged as issues to be worried about.
Change Sectors – Lack of Opportunities
These worries are reflected in the fact that 53% of people surveyed said that they had considered changing sectors this year with 45% going on to state that a lack of opportunities was the biggest obstacle when it came to achieving their career goals.
It is worth noting that 52% of the survey respondents felt that the government has done enough to support employment during the Covid-19 crisis, while 28% felt they should be doing more.
Concept of Remote Working
Asked to what extent employment was remote-based prior to Covid-19, 50% of those surveyed were office-based, with 35% stating their job consisted of both remote and office-based work.
Since the Covid-19 pandemic 70% of responders stated that the nature of their job has changed in respect to remote working.
Combination of Office and Remote Working
It is interesting to note how remote work has impacted upon people's concept of working conditions in the future as 69% of those surveyed envisioned future working conditions as being a combination of both office-based and remote work.
The remaining were split equally between fully remote and return to fully office-based work.
Asked whether they would expect their employer to further embrace remote working after Covid-19, 57% said Yes, with 18% saying No.
In addition, 81% felt it was important that there are supports for remote working put in place by the government.
Remote Productivity Up
When asked to describe their productivity while working remotely, 33% claimed they were as productive while working remotely, while 22% felt they were more productive.
Only 12% of those surveyed thought that they were being less productive.
About the Survey Respondents
Of the survey respondents, 46%, are in employment but 34% are actively looking to change roles, while 6% are students or recent graduates looking to take the first step in their career.
Some 17% of those surveyed are from an IT background, with 12% coming from Science and Engineering fields and 9% come from the world of finance with the rest spread across education, hospitality, medical, retail and employment listed as 'other.'
50% of those surveyed had work experience in their listed sector.
74% have completed either an undergraduate or postgraduate level education.
About Recruitment Ireland
Virtual Recruitment Ireland is an online recruitment fair connecting job-seekers with companies and recruitment firms via a virtual jobs fair that takes place on 27th August.
The virtual recruitment event will connect job-seekers with employers, HR and personnel professionals from top companies across Ireland and around the world, allowing candidates to explore an array of jobs and career opportunities.
Upload Your CV
Virtual Recruitment Ireland is organised by BCS Recruitment. When registering on the event, job-seekers can upload their CV so recruiters can match their skills and experience to their openings.
Those wishing to attend the virtual recruitment event on 27th August can register free of charge at Virtualrecruitment.ie
More Information from: 087 64 6 3 175 or by Email: bronagh@recruit.ie or check out: https://expo.virtualrecruitment.ie/event/3920