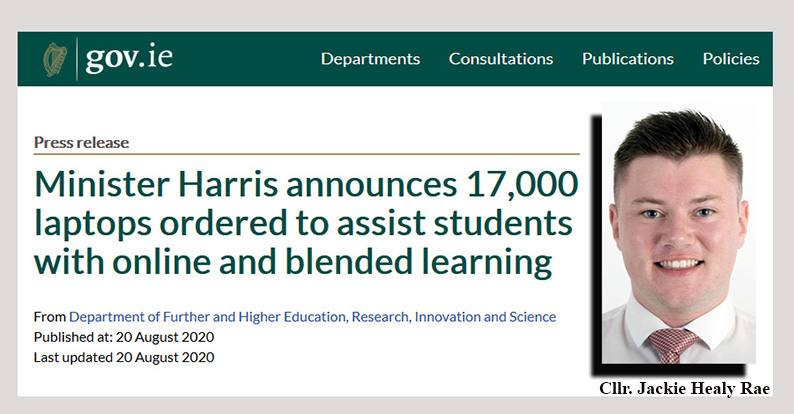 Cllr. Jackie Healy Rae send the following bit of advice for students who may find themselves disadvantaged and in need of a laptop.
"Anyone who needs a laptop and feels they fall into the criteria of disadvantaged student should apply to their college to the Student Services Office and they will process the application," said Cllr. Healy Rae.
€15M to Purchase Laptops
"A number of weeks ago, the Government provided €15 million to purchase laptops and iPads to help with remote learning and to bridge the digital divide.
"The Department of Higher Education has ordered almost 17,000 Dell laptops which will now be distributed across our universities, our Institutes of Technology, or ETB's and a number of Solas funded colleges also.
"For example: IT Tralee got €151,199 with €176,500 going to Kerry ETB.," said Cllr. Healy Rae.
For more on this week's announcement by Minister for Further and Higher Education, Research, Innovation and Science, Simon Harris TD please click on the link here:   https://www.gov.ie/en/press-release/7143d-minister-harris-announces-17000-laptops-ordered-to-assist-students-with-online-and-blended-learning/