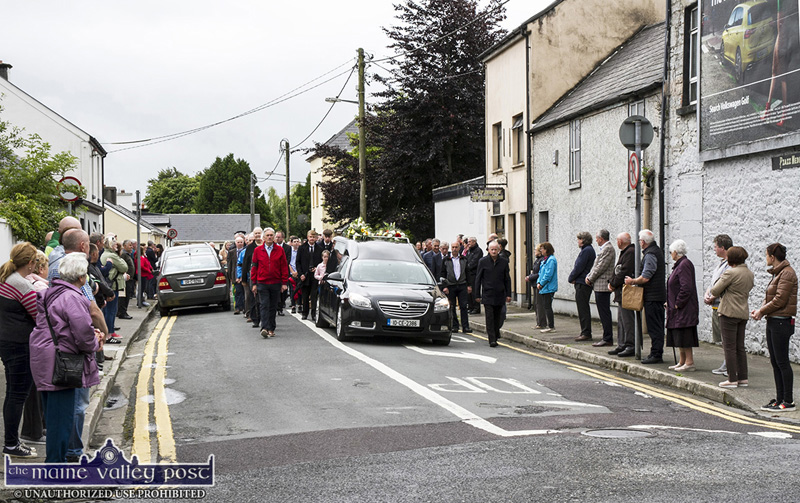 To the people of Castleisland he was Garda Jim Lordan, to his parents and seven siblings in Cork he was Jimmy, to his wife Kathleen he was Jim and to his 11 children he was Daddy.
By Garda Michelle Lordan
James 'Jim' Lordan served as a Garda in Castleisland for 29 years and for 35 years in total in the Kerry division.
He lived with Kathleen and his 11 children for 54 years in Castleisland.
Jim Lordan was born in Macroom, Co. Cork on the 7th January 1938. He was the eldest of eight children to John and Johannah Lordan.
The Early Years in Macroom
The early years of his life he lived at Inchisine, Macroom and went to primary school in Tarelton. He spent a lot of his childhood between both sets of grandparents in Coolehane, Macroom and Tarelton.
When Jim was 11 or 12 years old, his parents moved to the current family home at Tullatreada, Macroom overlooking the picturesque Gearagh, a world nature reserve.
Jim completed his second level education at the Bishop McEgan College Technical School in Macroom.
A Garda in 1960
He went on to work for the Rural Electrification Scheme or ESB for a few years in the late 1950s. He recalled laying poles in areas of West Cork such as Dunmanway.
On January 6th 1960 Jim became a member of An Gárda Síochána.
He trained at the Garda depot in the Phoenix Park, Dublin and after six months training he was sent to his first station in Listowel.
Love at First Sight in Bally B
At that time the Gardai lived in private quarters in the station with other single colleagues.
During the summer months he was sent on temporary transfer to work in Ballybunion.
One day he called into the local Post Office to post a letter home to his beloved mother.
A young woman named Kathleen McTaggart from Milford, Co. Donegal was working on that day. She had been sent on temporary transfer to work in Ballybunion for the summer.
She recalled in later years, she thought it was a great sign of a man to send a letter home to his mother.
It was love at first sight for Jim and Kathleen. On May 3rd1962 they had a double wedding with Jim's brother Ted and his wife Peggy in Macroom, Co. Cork.
Transfered to Tarbert
Jim was transferred to Tarbert after he was married and he worked and lived there until May 1966. In May 1966 Jim, Kathleen and three young children moved to Castleisland and into the Garda station house which became their family home.
They went on to have 11 children in total. Jim also did several tours of duty on the border with Northern Ireland during the 1970's and early 1980's.
A Devoted Family Man
He was a devoted family man and loved spending time with his family in Cork and Donegal.
Jim and Kathleen ensured their children had an excellent upbringing and education.
Jim served as the local Garda to the people of Castleisland for 29 years.
If anyone needed assistance day or night, they could rely on Jim to assist them whether they called to the Garda station or his family home next door.
Fairness was his Hallmark
He had a great affinity with people and saw the best in everyone. He was very fair to anyone he dealt with in the course of his duties.
He could see the good in everyone he met and he always treated people with respect and compassion.
Jim was a familiar figure around the Castleisland sub-district patrolling on the motorbike and calling to the elderly and vulnerable people.
Directing Traffic with Ranger
He was also a familiar figure directing traffic on Main Street with his trusty terrier 'Ranger' at his feet.
Jim and Kathleen's home was an open house to young Garda members who came to work in Castleisland. They treated them and their children like their own family.
Jim retired from An Garda Siochana on the 6th January 6th 1995 – 30 years to the day on which he joined the force and a great night was held at the River Island Hotel to mark the occasion.
Great Interest in the Horses
He had a great interest in horse racing and regularly attended race meetings and went to Cheltenham on a few occasions.
On retirement Jim and Kathleen had time to travel and spend time together and with their adored 11 children and 18 grandchildren in Ireland and England.
Jim was also the one of the registrar of Electors in Castleisland area for a number of years ensuring the voter's register was up to date.
He had a deep religious faith which stood to him when his beloved wife of over 50 years Kathleen died in September 2012 after a short illness.
His faith and interest in horseracing kept him going after her passing.
First Great Grandchild in 2019
At Christmas of 2019 he got to meet his first great grand-child Ida-Olive when she came home from Australia with Jim's eldest grandson Jamie.
Jim passed away on the 10th July 2020 in the Palliative Care Unit of University Hospital Kerry after a short illness.
The Oncology Department and Palliative Care Unit took great care of him in his final weeks.
The Lordan family members are extremely grateful and touched by the outpouring of love and goodwill from the people of Castleisland and beyond over the days after Jim's passing especially during the current Covid climate.
Streets Lined in Tribute to Garda Jim
The number of people who lined the streets and the businesses that closed their premises and workers who stopped working as the funeral cortege passed through the town showed the great respect held for Jim Lordan.
The Lordan family: John, Maria, James, Caitriona, Timothy, Bernadette, Padraig, Damien, Sinéad, Michelle and Peter wish to sincerely thank everyone for the kindness and goodwill shown to them during this very difficult time.
Jim is once again with his beloved Kathleen, his parents, younger brothers Sean and Denis and his sister Sheila who predeceased him.
Ar Dheis Dé Go Raibh A Anam Dílis.