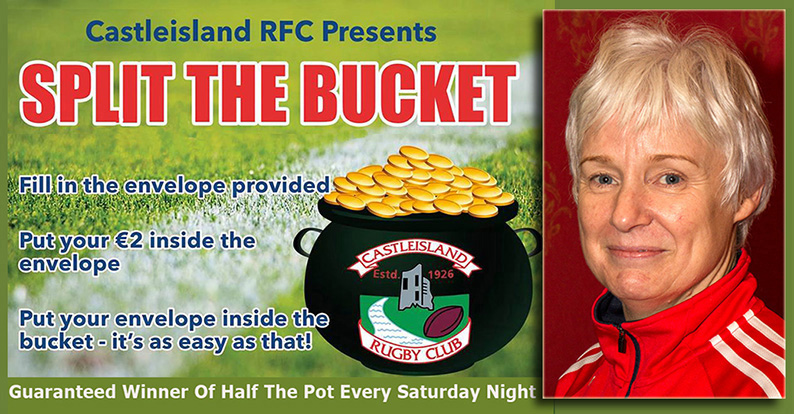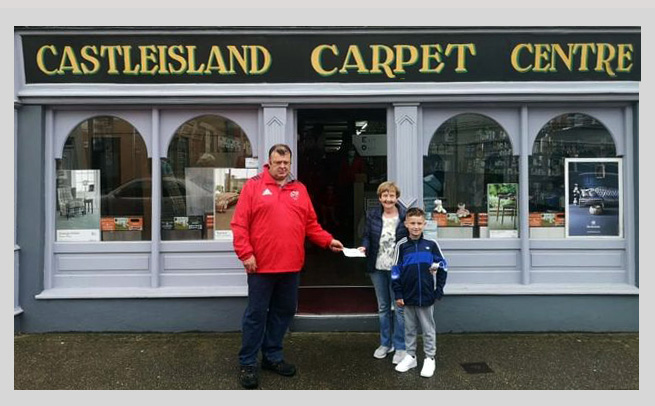 The Castleisland Rugby Club's Split the Bucket draw, which was held at Castleisland Carpet Centre on Saturday 22nd., had a guaranteed prize of €1,000 in celebration of the second anniversary of its launch – and Joan Cronin of Currow was the lucky winner.
Bina Reidy, Knockachur, Knocknagoshel pictured with her grandson, Eoin being presented with her winning Split the Bucket cheque for €715 by John Riordan, Castleisland RFC.The winnings will be presented to Joan at next week's draw which will be held in Nana Bea's Cafe on Saturday 29th at 4.30pm.
Bina Reidy, Knockachur, Knocknagoshel was accompanied by her grandson, Eoin on Saturday when John Riordan represented the host club in presenting Bina with her previous week's winnings of €715.
Buckets Available at….
The Castleisland AFC Split the Bucket buckets are available in the following places:
Anne Mac's Circle K; Browne's Agri Hardware; Castleisland Carpet Centre; Castlemeats; Centra; Chicken Club; Daly's Seafoods; Den Joe's; Diarmuid's Family Butchers; Eileen's Cafe; The Halfway Shop, Ballymac; Jackie Reidy's Menswear; Kieran's XL, Knocknagoshel; Kingdom Oil; Martin Curtin's Shop; McCarthy's Foodstore, Currow; Moloney's Cake Shop; MP Moran's ; Nana Bea's; Pat's Babrbers; Rhyno Mills; Sue Ryder's and Vincent Murphy Sports.
Envelopes Available In Shops
Split the Bucket Envelopes – but now the self sealing kind – are available in the venues above throughout this and neighbouring parishes.
You simply put your €2 in the envelope, seal it and sign it and add your telephone number and pop it in the bucket or the club coloured, red and blue stand.
And, Castleisland RFC has added the convenience of playing online for those who are into it and you can do so by following the link here:
https://app.superpayit.com/recurring-payment/initiate/iM16Pww/?fbclid=IwAR2o5cnHeUkab1aqHy1iSgQAnddRG8bd-Yp7VDStT1F-nZ6TR7nCPnMbgko