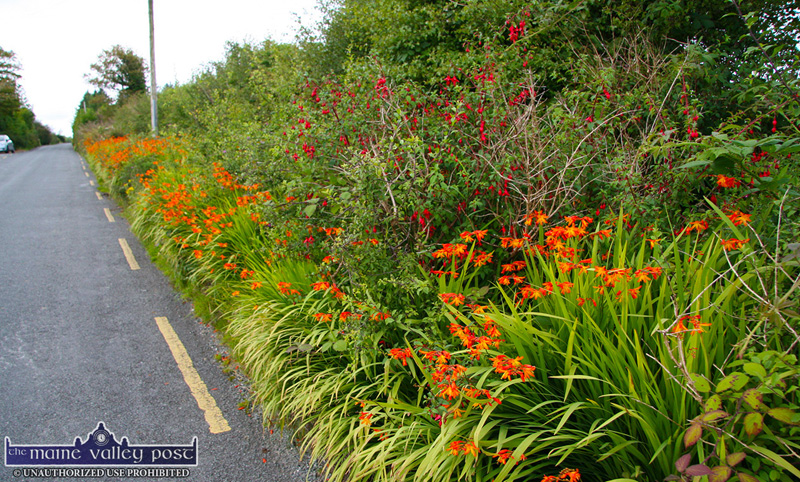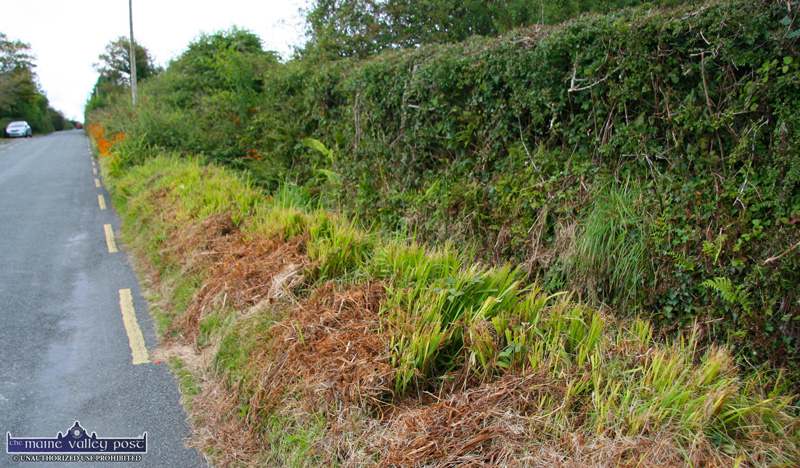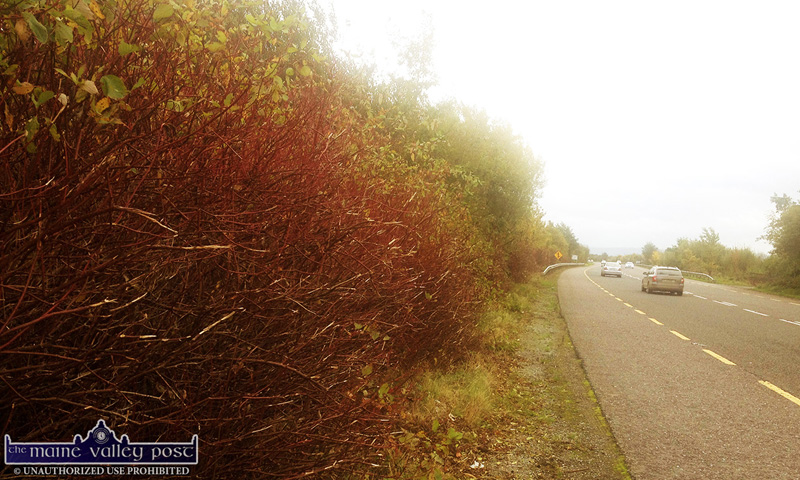 Maps of the British Isles and Ireland from 1940 up to 2016 show the rampant progress of the invasive species known as Japanese Knotweed over that near 80 year period.
And the march of progress is frightening. From just one instance in the Dublin area in 1940 to an almost blanket coverage of the whole country by 2016.
Hedge Cutting Machinery
This time of the year – and indeed at any other – when hedge cutting machinery appears on the landscape, I and my equals get phone calls and Emails from people with complaints that flower decorated and laden hedgerows are being destroyed in their areas.
I know exactly what the complainants mean because I came across a brutal example of the practice a few years ago while travelling along the beautifully scenic road between Ballinskelligs and Portmagee.
It was around this time of the year – and in the tourist season. As I rounded a curve in the road I found it littered with Fuchsia branches and flowers mixing sadly on the surface of the road with those of the equally vibrant, complementary but equally slain Crocosmia / Montbretia.
Just Following Orders
After at least a quarter of a mile of this destruction I came upon the 'hedge-cutter' and its operator and a man on traffic control.
I asked him about the poor choice of timing of their work and pointed out that the area was buzzing with bees and butterflies and tourists and he told me they were only following orders.
This year is no different and while most people take to their own Facebook pages to vent their justifiable rants on this topic, there is still a trickle of calls and Emails and, now, photographs coming in.
A Summer Ditch of Wild Flowers
There was a complaint last month by a local man that a ditch of wild flowers which he had cultivated were all hacked away along with their pollen producing cousins – or weeds as we know them.
There are signs on many roads surounding Castleisland in recent years warning the people of the area and landowners that they dare not put a hand on or attempt to cut the rampant Japanese Knotweed.
Ballymac Cursed with Knotweed
Yet, only this week the roadsides between Castleisland and Tralee were cut – knot-weed and all – on behalf of Kerry County Council.
If you want to see an area of rampant Japanese Knotweed growth this is it – with the Ballymacelligott stretch as cursed as you'll find anywhere.
Hedge Cutters from Co. Louth
However, a Kerry County Council spokesperson confirmed that the hedge-cutting was outsourced to contractors from Co. Louth in this instance and that the operators may not have been aware of the problem with the invasive species here in Kerry.
"Up to now the council tendered the job to local contractors and they were made aware of areas which should remain untouched because of the species.
"But this is a very experienced firm and they do road maintenance work throughout Ireland. They had been made aware of the problem areas and advised not to cut there – but the local knowledge was missing this year.
A Procurement Process Choice
"This year the procurement process saw the Co. Louth firm winning the contract for hedge-row management in Kerry and the knowledge built up over the years by the local contractors was missing this year and the knot-weed was clearly cut in error," said the spokesperson.
If you'd like to find out more about Japanese Knotweed you can do so with a click on the link here: https://www.thejapaneseknotweedcompany.com/japanese-knotweed-ireland